Diocese celebrates priestly ordination
Friday, Jul. 05, 2013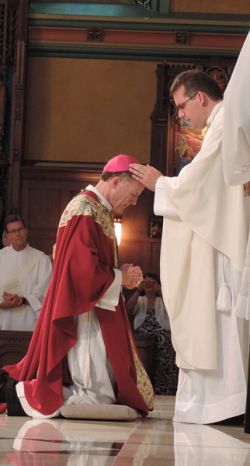 Intermountain Catholic

+ Enlarge

SALT LAKE CITY — The Most Rev. John C. Wester, Bishop of Salt Lake City, ordained Deacon Christopher P. Gray a priest June 29 in the Cathedral of the Madeleine.

"The Church of Salt Lake City rejoices today as we gather for the Sacrament of Holy Orders," Bishop Wester said. "We give thanks for the foundation and the source of his vocation, and I want to thank Maria- Cruz and Deacon Forest Gray, his parents, his first seminary, who allowed the seed of Christ's call to grow in Christopher."

Maria-Cruz Gray is the Diocese of Salt Lake City Office of Hispanic Ministries director and Deacon Forest Gray is the coordinator for the Office of Continuing Deacon Formation.

Fr. Gray entered Mount Angel Seminary in 2007 and two years later he continued his education at the North American College in Rome, graduating from the Gregorian University. In September he will return to Rome for a licentiate in theology from Lateran University.

The bishop noted how calm Fr. Gray looked prior to being ordained. "But then, how many deacons have their father sitting peacefully, watching over everything on the altar … and his mother in the front pew watching as well. … What a blessing you are to our diocese," he said.

In his homily, the bishop said "it seems like yesterday" that he arrived in Salt Lake City in 2007 and was interviewed by Fr. Gray, who at the time was working for the Intermountain Catholic. "We all suspected something was going on with this recent graduate of the University of Utah, and clearly it was."

The bishop went on to say that the Church proclaims that Fr. Gray will be "consecrated as a true priest of the New Testament to preach the Gospel, to shepherd God's people and to celebrate the sacred liturgy, especially the Lord's sacrifice, and preaching comes first," he said. "You are called to follow Christ's example and be one with your people … being united to the sacrifice of Christ, which will be offered through your hands in the celebration of the sacraments."

Following the homily Deacon Gray was examined as a candidate and promised respect and obedience to Bishop Wester and his successors, before lying prostrate as a gesture of humility in undertaking the office of the priesthood. The bishop then laid his hands on Deacon Gray's head and offered the prayer of consecration. The palms of Fr. Gray's hands were anointed with Sacred Chrism.

Fr. Gray was vested by retired Monsignor Rudolph Daz, former pastor of Saint Olaf Parish, where he attended Saint Olaf School.

"He was my image of the good priesthood ... a man of prayer, a man who obviously loves God fully," Fr. Gray said. "He is a genuinely holy man, which of course is the most important thing."

He also was vested by retired Monsignor M. Francis Mannion, who was rector of the Cathedral of the Madeleine when Fr. Gray was in the Madeleine Choir School. "He was also an excellent example of how to be a priest," Fr. Gray said.

The vesting was a significant moment, Fr. Gray said, because he feels that by wearing the chasuble – the principal Mass vestment – it "becomes a unity of presence in a kind of mystical way," he said.

Also, when his hands were anointed with the holy chrism, the scent struck him, he said, "not because of its fragrance but because of what it meant. The hands are consecrated – the rest of me is consecrated – the whole thing is now for God's purpose alone."

Following the Mass, people came forward to have Fr. Gray bless them.

Father John Norman, a former classmate of Fr. Gray's who was ordained on June 1, said, "It was a great experience to be able to lay my hands on him and be a part of the celebration."

Saint Olaf parishioners Bob and Bette Singler have known Fr. Gray since his childhood.

"We feel blessed to have known him since he played on the playground; he has been in our prayers for years," said Bette Singler.

Hilary Leonard is happy for her former Judge Memorial Catholic High School classmate, she said. "To see him accomplish this and to know that this is the beginning of all the great work that he is going to do is really exciting. He is truly one of the kindest, most generous and hardworking people I've ever known. We're lucky to have him in the diocese."

Deacon Doug Biediger, from Saint Francis Xavier Parish, said Fr. Gray used to play the organ at Our Lady of Lourdes Parish in Magna, "even after his first year as a seminarian," he said. "So this is great to see it all come to fruition."