Diocese of Salt Lake City completes first phase of pastoral planning process
Friday, Mar. 06, 2015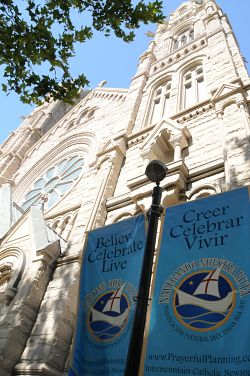 Intermountain Catholic
+ Enlarge
The first phase of the Diocese of Salt Lake City's Pastoral Plan is complete.
The process began with Bishop John C. Wester's announcement at the Pastoral Congress in September. The plan, Charting Our Course/Navegando Nuestra Ruta, will establish the diocese's priorities, goals, and objectives through the next five years.
In his video announcement of the plan, Bishop Wester emphasized that participation and prayerful support by Catholics throughout the diocese is vital for the plan's ultimate success.
During Phase I, there was thoughtful and enthusiastic participation by a great number of people everywhere in the diocese, who provided valuable data from both the listening sessions and the online survey.
As the transition into Phase II occurs, this data will be organized and analyzed. This phase also involves verification of the analysis by various groups in the diocese.
The members of the Pastoral Plan Steering Committee expect that the second phase will be completed by April. Following this period of analysis, the Steering Committee will enter a more reflective attitude of prayerful discernment, Phase III, during which they will consider the data in relation to their vision of where God is calling the diocese to be in the next five years.
The final step will involve drafting the overall strategic plan that will provide a map for the journey the diocese will take. Bishop Wester expects to promulgate the final plan this fall.
Updates regarding progress on the Pastoral Plan will be provided in this newspaper, the planning website (prayerfulplanning.com or navegandonuestraruta.com) and parish bulletins. Bishop Wester and the Pastoral Planning Committee thank Utah's Catholics for their support and participation and ask for their continued prayers for the success of the strategic planning process.