Diocese offers Holy Week mission for young adults
Friday, Mar. 15, 2019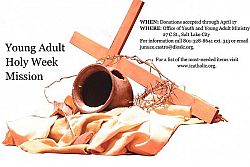 Intermountain Catholic
+ Enlarge
SALT LAKE CITY — The diocesan Office of Youth and Young Adult Ministry this Lent is having a Holy Week Mission.
Under the title "I Am Thirsty," all the young adult members of the Catholic Diocese of Salt Lake City are being encouraged to collect and donate new and gently used, clean and sorted items in good condition for the Youth Resource Center of Volunteers of America.
Utah's Youth Resource Center of Volunteers of America provides resources and emergency shelter for youth ages 15-22 who are at risk or experiencing homelessness.
The center provides the youth with three hot meals a day, a food pantry, showers and laundry, as well as services such as life-skills groups, case management for housing and employment, and dental and medical care assistance. At night, the center serves as a 30-bed emergency shelter.
"The three pillars of Lent are prayer, fasting and almsgiving," said Junuee Castro, director of the Office of Youth and Young Adult Ministry, adding that the reason for this Holy Week Mission is to "Give ourselves to the world and to those who have a need."
Recalling the words that Pope Francis told the youth in a gathering in Chile in 2018, Castro said that the young adults need to ask themselves, "What would Jesus do in my place?" and then go out and serve those in need.
"This they can ask themselves at school, at university, outdoors, at home, among friends, at work, when taunted. Pope Francis said, 'He [God] is the password, the power source that charges our hearts, ignites our faith and makes our eyes sparkle.' And the only way not to forget the password, the pope said, is by using it over and over, day after day," Castro said.
Encouraging the young adults to live this year's Holy Week with more intensity, Castro is inviting all those who are interested to collect and donate clothes and hygiene products for the homeless youth who are served by the Youth Resource Center.
Castro also is encouraging young adults (18+) to visit the center on April 20 to prepare and serve breakfast and deliver the collected and donated items.
Space is limited for the April 20 event, so the youth interested in this part of the mission should contact her as soon as possible.
All donated and collected items should be delivered before April 17 to the Office of Youth and Young Adult Ministry, located at the diocesan Pastoral Center.
The donated clothes should be sized for ages 15 to 22. The clothing can be new or gently used but should be clean. In case of underwear, the items must be new. Some urgent needs are sleeping bags, men's and women's undergarments, and socks.
Pope Francis is urging the youth to be young Samaritans, "who never walk past someone lying on the roadside," Castro said.
WHAT: Youth Holy Week Mission
WHEN: Donations accepted through April 17
WHERE: Office of Youth and Young Adult Ministry, 27 C St., Salt Lake City
For information call 801-328-8641 ext. 313 or email junuee.castro@dioslc.org.