Diocese seeks Spanish-speaking men for diaconate program
Friday, Apr. 06, 2012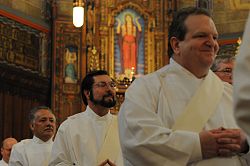 Intermountain Catholic
+ Enlarge
SALT LAKE CITY — The harvest is plentiful in the Diocese of Salt Lake City, which is seeking laborers in the form of deacons to minister to the Spanish-speaking flock.
"It was a request of the pastors, that they need deacons who speak Spanish because that is where the highest need is right now," said Father Eleazar Silva, parochial vicar of the Cathedral of the Madeleine, who will serve as director of academics for the new diaconate formation program.
In Spanish-speaking congregations, there are sometimes 30 to 40 baptisms at a time, and sometimes no priest or deacon is available to conduct funerals in these congregations, "so some people are being buried with no funeral," Fr. Silva said. "Some priests can read Spanish, but that is as far as they can go."
Ordained deacons can not only officiate at baptisms and funerals, they also can preside at Communion services for quinceñeras, preach, handle administrative work for the parishes and undertake other duties assigned by pastors, Fr. Silva said. "They will have plenty to do."
The last class of deacons for the diocese was ordained in 2010. Those 21 men are now assigned at parishes throughout the diocese. The new class will have about the same number; candidates must be Catholics in good standing, between the ages of 36 and 61 (although the bishop can grant exceptions to the age limits), be fluent in Spanish and conversant in English, and be either a United States citizen or legal resident. If married, the candidate must have his wife's support.
"The wives need to be supportive and understanding," because their husbands will be devoting a great deal of time not only to the twice-monthly classes, but also to parish ministry and social ministry, said Deacon Drew Petersen, director of the diocese's diaconate formation program.
Candidates for the program must have their pastor's approval and preferably already be active in their parish.
"We're pretty much looking for the leaders of the community; people who are already exercising some type of leadership in the community," Fr. Eleazar said. "They need to have the support of their pastor, which means that the pastor already knows them and knows how committed they are to their faith."
Men who feel called to the diaconate are asked to attend an inquiry session. At the session they will be asked to fill out an eligibility form. Those forms will be reviewed; selected candidates will be asked to fill out an extensive application. If those applications are approved, then the candidates will receive a home visit and undergo psychological testing. Diaconate formation classes, which will be conducted in Spanish, are expected to start in January.
The program takes four years to complete.
"It truly is a calling, and people come in at different levels of that calling," said Deacon Petersen, who was ordained in 2010. He added that he knows from personal experience that spirituality develops over a period of time. "It's not a matter of being worthy, it's a matter of their commitment. They prove their own worthiness to themselves through the process. The program is so developed that people grow immensely in their own spirituality and also in their own comfort in what they are doing."
Another diaconate formation program in English is being considered, Deacon Petersen said.