Dominican Fr. Denis Reilly is retiring
Friday, May. 11, 2018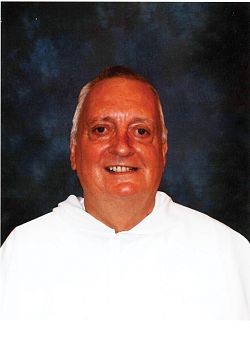 IC Archive photo
+ Enlarge
DRAPER — After spending much of the last 30 years in Utah, Dominican Fr. Denis Reilly, parochial vicar at St. John the Baptist Parish, is retiring. On June 1 he will return to St. Dominic Priory in Los Angeles, Calif.
His past five years at St. John the Baptist Parish have been one of his favorite assignments, he said.
"Msgr. Moore did a phenomenal job of establishing this parish," he said. "Msgr. Mayo and myself got to reap the rewards of that work, and then Fr. Rick came along."
Msgr. Terence M. Moore was the parish's founding pastor; Msgr. Joseph M. Mayo succeeded him in 2013. Both monsignors are now retired. Fr. Rick Sherman became pastor in 2017.
Fr. Denis was born Aug. 15, 1944 in New Orleans, La. to Harry and Zella (DeVillier) Reilly. His father, who was serving abroad in the Army, first saw his son, the couple's only child, when he was 2 years old. Shortly after, the family moved to San Francisco, Calif.
A religious child, Fr. Reilly encouraged his parents to attend Mass, he said. Over the years his love of the Church grew, and he eventually transferred to St. Elizabeth High School in Oakland, a three-and-a-half-hour round trip from where the family lived.
While at St. Elizabeth's, Fr. Reilly was impressed with the San Jose Dominican sisters and visited the Dominican seminary, where he met their provincial, Fr. Fulton.
As his desire to enter the priesthood grew, he attended St. Mary's College in Moraga, Calif. He earned bachelor's degrees in philosophy and theology, and was ordained for the Western Dominican Province on June 12, 1970 in St. Francis de Sales Cathedral in Oakland, Calif. by Bishop Floyd L. Begin, DD.
At Fr. Denis' first Mass his father made his Holy Communion, and on his parents' 50th wedding anniversary Fr. Denis blessed their marriage.
From 1971 to 1997 Fr. Denis was assigned to several ministries within the Dominican province, serving as chaplain, vocation director, pastor and prior of house of studies for three three-year terms.
After a year's sabbatical, during which he traveled and participated in a four-month study program in Israel, he was assigned as pastor of St. Catherine of Siena Newman Center in Salt Lake City. While there, he helped guide the parish through the renovation of the Newman Center and the construction of a new chapel.
"When I arrived, it was very obvious we needed a bigger facility," Fr. Denis said. "The community did a tremendous amount of work – nearly $200,000 in sweat equity. They are wonderful people. I just helped."
He was reassigned by his provincial in 2005 to positions at Saint Dominic's Priory in Benicia, Calif., but returned to Utah in 2009 to serve as parochial vicar at St. Therese of the Child Jesus Parish in Midvale. In 2013 he accepted his current assignment at St. John the Baptist Parish.
"Utah has been a good place for my active ministry," Fr. Denis said. "It is such a beautiful state, and I have had a joyful time here. The people have been very, very kind to me here and very generous with their love and acceptance. I'm going to miss them."
Fr. Denis said he is looking forward to living again in community at St. Dominic Priory, but he will never forget the lifelong friends he has made here in Utah.
Msgr. Colin F. Bircumshaw, vicar general, said Fr. Denis, in keeping with the charism of the Order of Preachers, "has been a very thoughtful and challenging preacher. His gifts for and enjoyment of preaching, I believe, have been especially appreciated by the faithful in his final assignment at St. John the Baptist Parish. Fr. Riley has been a strong advocate for issues of social justice, human dignity and peace. I have especially appreciated his faithful attendance and lively participation in the gatherings of the presbyterate, and will miss his presence and participation. He has always been generous in his pastoral service, even as his health and mobility have declined in recent years. He will be missed by both the faithful and his brother priests here in the Diocese of Salt Lake City."