Donald Lewis Dailey
Friday, Nov. 26, 2021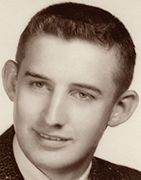 + Enlarge
Donald Lewis Dailey
October 6, 1938 ~ August 1, 2021.
Donald Lewis Dailey of Kaysville, age 82, was called home on August 1, 2021.
Donald, the oldest of five siblings, was born to Richard Russell and Ethel Flourine (Ackley) Dailey on October 6, 1938, at home in Athens County, Ohio. He grew up on a dairy farm in southeast Ohio and graduated from Rome Canaan High School in 1956 as valedictorian. He attended both the University of Ohio and "The" Ohio State University and was a lifelong Buckeye fan. He moved to the Quad Cities to work at John Deere where he met and married Mary Ann (Bruckman) on September 10, 1960. They raised a family of six children moving occasionally but remaining in eastern Iowa and western Illinois.
In the winter of 1985, they moved the family to California, living in Brea, Irvine, and finally Mission Viejo. In California, Don worked for PHE Hydraulics, McDonnell Douglas, and finally Boeing as a hydraulics engineer. He earned a patent while at John Deere and at McDonnell Douglas. Don retired in 2002 and, sadly, his wife passed in 2014. He then moved to Kaysville to live with his son, Kevin, in 2015.
Don was an honorable, respected, hardworking Christian man who loved his family, his work, homemade ice cream, and naps! Most importantly, he loved his wife, Mary, and he always put her first. He felt a tremendous responsibility for his family and preferred to be home with them over most any other activity. He loved telling stories of growing up on a farm in Ohio with plow horses, dairy cattle and hunting. He always enjoyed his two favorite kinds of pie – hot and cold!
Don is survived by his six children, Shawn (Susan) Dailey of Hanford, California, Kevin (Sojung) Dailey of Kaysville, Jamie (Michelle) Dailey of Huxley, Iowa, Julie (Robert) DeSplinter of Oceanside, California, Rose (John) Mill of Rockford, Michigan and Kate (Greg) Spackman of Riverton; his siblings Dick (Athens, Ohio), Dan (Guysville, Ohio) and Cindy (Logan, Ohio); 18 grandchildren and nine great-grandchildren.
A funeral Mass was celebrated on August 6 at St. James the Just Catholic Church. Interment, Lindquist's Washington Heights Memorial Park.