Donations provide holiday cheer in Park City
Friday, Jan. 15, 2021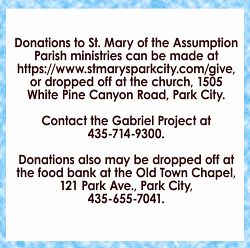 + Enlarge
PARK CITY — During the Advent season, St. Mary of the Assumption Parish's spirit of giving was more alive than ever, despite all the challenges raised by the COVID-19 pandemic.
The parish's Gabriel Project helped eight families and provided Christmas meals and presents for two more, said Arlene Helfand, the ministry coordinator.
The Gabriel Project supports young mothers and expecting mothers in need.
One couple in the parish, who is expecting a baby, wanted to provide a Christmas dinner for one of the families helped by the Gabriel Project, Helfand said, and "then another person in their family wanted to provide another dinner for another family."
The giving spirit resulted in the two families receiving a holiday dinner as well as Christmas presents for all the children.
"It was just a joy. … There is so much kindness in the people and I think that joy increases every time that we help anybody," Helfand said. "It is really the goodness of the people of St. Mary's and also of Fr. Gray; he really took a risk through the year."
Fr. Christopher Gray is pastor of St. Mary of the Assumption Parish.
When Helfand receives a phone call for help from the Gabriel Project, she contacts volunteers in order to provide lots of diapers and clothing, and sometimes a car seat or a stroller or a crib.
"The goodness of the people of St Mary's – it's just special. When they hear of a need, they just pour out their love," she said. "Christ asked us to welcome the children, the strangers, to feed the hungry, to clothe them … and we just try to do that."
All the donations for the Gabriel Project are made directly to the parish, which also operates a food bank that provides some items for the Gabriel Project. St. Mary parishioner Sarah Dellenbach is in charge of the food bank.
"The need has been greater [recently], but the kindness has been outpouring; kindness has surpassed us. Our parish has been filled with God's love and light throughout these times," Helfand said.
The St. Mary's Food Bank is located at the parish's Old Town Chapel in Park City. New mothers can pick up diapers there, along with food items.
To keep up with the need, donations are accepted through St. Mary's website or directly at the Old Chapel or at the main church.
The most needed items are white rice, vegetable oil, diapers, vitamins, canned tuna, dried pinto/black beans, pasta and sauce, canned fruit and canned vegetables.
Donations to St. Mary of the Assumption Parish ministries can be made at https://www.stmarysparkcity.com/give, or dropped off at the church, 1505 White Pine Canyon Road, Park City.
Contact the Gabriel Project at 435- 714-9300.
Donations also may be dropped off at the food bank at the Old Town Chapel, 121 Park Ave., Park City, (435) 655-7041.