Dr. Daniel Good
Friday, Jun. 29, 2012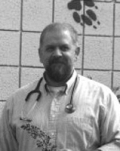 Intermountain Catholic
+ Enlarge
SALT LAKE CITY — Dr. Daniel Good passed away June 21, 2012.
Good was born Sept. 11, 1965 in Philadelphia, Penn.
He is survived by his parents, George and Helen Good; sisters Helen La Rose (Larry), Susan McOmie (Del), Dot Stefanich (Jeff), Diane Olsen (Jeff), and Lisa Radke (Matt); brother David Good (Karen), and many nieces and nephews.
A celebration of Dan's life was held at Wheeler Farm Pavilion.