Eleanor Marie Miltner
Friday, Nov. 26, 2021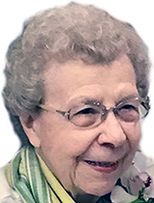 + Enlarge
Eleanor Marie Miltner
May 13, 1919 ~ November 9, 2021
Eleanor Miltner was born on May 13, 1919 in LaCrescent, Minnesota to Lilla and Edward Hasselbusch. On November 9, 2021 she passed away peacefully at her residence in St. George after a long and fruitful life.
After graduating from high school in La Crescent, she attended business college in Minneapolis, where she met her husband, Leo E. Miltner. They were married in Billings, Montana, where she was a secretary for the Bureau of Indian Affairs, and eventually settled in Sheridan, Wyoming.
Eleanor and Leo were passionate travelers who covered most of the United States pulling mobile homes of various sizes. They also cruised to Hawaii and Alaska. After Leo died, she and her progeny were frequent traveling companions, venturing to Europe and many places in the United States.
Leo and Eleanor will both be remembered by many for constantly leading by example. Eleanor was very active in scouting and 4-H and was always quick to lend a helping hand to anyone in need. She organized many school carnivals and other fundraisers. After they retired, she and Leo were Silver Haired Legislators, serving as liaisons between Wyoming residents and the state legislature. After moving to St. George, Eleanor devoted hours of service as a volunteer at the St. George Parish Thrift Shop.
Given her incredible listening skills, she was a person friends and family regularly turned to for compassion and advice. Eleanor was always hesitant to inconvenience anyone, and even though she was handicapped by blindness, she remained remarkably independent. She was a devout Catholic, a eucharistic minister in Sheridan and St. George parishes, a tireless volunteer – an exemplar par excellence of a true Christian.
Eleanor was preceded in death by parents, husband Leo and youngest son Nicholas Miltner. She is survived by daughter Suzanne Olsen (Glenn), son Leo Miltner Jr. (Pat), daughter-in-law Mary Miltner, granddaughters Teresa Pierre (Dr. Andrew), Dr. Cathy Stokes (Chris), Kristin Caruthers (Cliff) Kaitlyn Vondle, (Paul), grandsons Greg Olsen (Julia), Dr. John Olson (Desa), Matthew Miltner, Gabe Miltner (Brooke) and 17 great grandchildren.
A funeral Mass was celebrated November 12 at St. George Catholic Church. Interment, Sheridan Wyoming Municipal Cemetery.