Eleanor (Nora) Piacitelli Dalpiaz
Friday, Oct. 11, 2019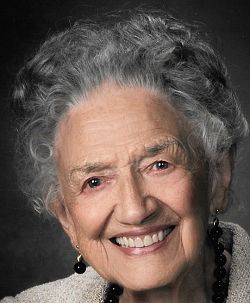 Courtesy photo
+ Enlarge
September 30, 1911 ~ September 27, 2019
Eleanor (Nora) Piacitelli Dalpiaz was born September 30, 1911 in Majestic, Colorado to John and Helen Williams Piacitelli, the third of eight children. She passed away just three days shy of her 108th birthday on September 27, 2019 in Tooele, surrounded by her loving family.
Nora's family moved to Sunnyside and then Price when she was a young child, where she attended school and first practiced her future calling in nursing, caring for her family during the 1918 influenza epidemic. In 1934, she moved to Salt Lake City to attend Holy Cross Nursing School, graduating in 1937. She married her ideal husband, Frank Dalpiaz, May 28, 1938 at Notre Dame Catholic Church. Except for Frank's time in the Navy in WWII, Nora and Frank were inseparable partners until his passing in 1996, after 58 years of marriage.
Nora felt her greatest accomplishments were being a wife, a nurse and a mother to Philip Michael and Mary Therese. She was a pioneer for working mothers, with a nursing career that included time working for Dr. Demman and as director of nursing at Carbon Hospital and nursing administrator at Carbon Nursing Home, retiring in 1979 at age 68.
Nora was an incredible cook, kept a spotless house and loved tending to her garden. She was also known for her service to her church and her voice that resonated with St. Anthony's Church Choir. She was named St. Anthony's Woman of the Year in 2007 by the Council of Catholic Women. In 2008, Nora was welcomed by her granddaughter Amy and her husband Chris into an apartment built for her in their Tooele home.
Nora is survived by her children and their spouses: Phil (Nancy) Dalpiaz and their sons Phil Jr. (Patricia), Steven (Shelley) Dalpiaz; and Mary (Jack) Bottino and their daughters Gina (Graeme) Cox, Amy (Chris) Wilcox and Julie (Brian) Prutch; and great-grandchildren Racheal, David Dalpiaz, Franklin (Isabel) Wilcox and Rufus Cox.
She was preceded in death by her parents; her siblings Mildred Kasparec, Florence Piacitelli, Edward Piacitelli, Adeline LeBar, Rev. Henry Piacitelli, Helen Jean Smith and John Piacitelli; and by her dear husband Frank.
A funeral Mass was celebrated October 5 at St. Anthony of Padua Catholic Church; interment at Mountain View Cemetery in Helper. A memorial Mass and reception will be held at St. Marguerite Catholic Church at a future date.
In lieu of flowers the family suggests donations in memory of Nora to St. Marguerite Catholic Church, St. Anthony of Padua Catholic Church or Tooele County Aging Services.