Elizabeth Jean Terrill 'Betty'
Friday, May. 10, 2019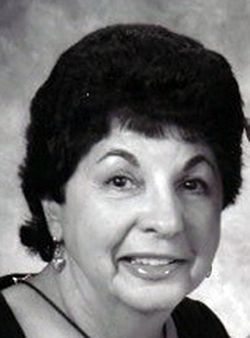 Courtesy photo
+ Enlarge
June 10, 1937 ~ April 28, 2019
Heaven gained another angel when our sweet mother, grandmother and friend, Betty, passed away on April 28 after a short illness. Born June 10, 1937 to Victor and Mary DeCaro Naccarato in Salt Lake City, she graduated from West High School in 1955 and married her high school sweetheart, Edward Franklin Terrill, on January 11, 1957. They adopted two children and had nine grandchildren. She was a member of Saint Olaf Parish. Betty worked for Valley Bank and Trust for many years.
Betty loved her family. They were her whole world. She loved to talk about her family to anyone who would listen. Betty loved her friends as well, and she would spend hours talking to them daily. She was an avid Utah Jazz fan who loved going to the games every year. She loved animals, especially dogs. She enjoyed when her family would bring their dogs to visit her.
She is survived by her husband, Edward; daughter, Shauna Roberts (Tim); son, David Terrill (Kelly); and grandchildren Korbin and Abby (Shauna) Maleah, Gabriel, Jon-David, Joseph, Noah, Grace and Maddie (David).
She was preceded in death by her mother, Mary, and father, Victor.
The family wants to thank the nurses, doctors, and everyone who took care of her at St. Mark's Hospital Critical Care Unit. Gone, but her spirit will remain in the hearts of those who love her.
A Mass of Christian Burial was celebrated on May 4 at St. Olaf Catholic Church. Interment followed at Mt. Calvary Catholic Cemetery. Please share your photos, memories and view a video tribute slideshow at www.starksfuneral.com.
In lieu of flowers, the family suggests contributions in Elizabeth Terrill's name to St. Jude Children's Research Hospital, PO Box 1000 Dept. 142, Memphis, TN 38148-0142; or Humane Society of Utah, PO Box 57369, Murray, UT 84157 (www.utahhumane.org).