Elma Motta Uzelac
Friday, Sep. 13, 2019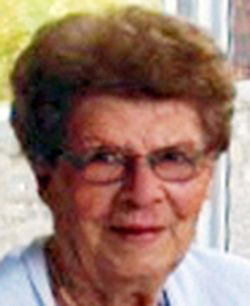 Courtesy photo
+ Enlarge
March 12, 1923 ~ August 28, 2019
Elma Motta Uzelac, a farmer's daughter, passed suddenly at age 96, on August 28, 2019, in Salt Lake City, Utah. Elma was born March 12, 1923, to loving Italian immigrant parents Steve and Angela Motta in Murray, Utah. Elma married Nicholas Louis Uzelac on May 26, 1943. Nick passed September 5, 1975, and Elma later married Theodore Ridl on April 15, 1989. Ted passed August 17, 1993.
Elma was a devoted member of the Catholic Church, Catholic Woman's League, Trentini Italian Club of Utah and the YWCA of Salt Lake City, where she provided children's secure day care for 25 years. In 1993, Governor Mike Levitt awarded Elma the "Older American Service Award," and in 1995 Elma was inducted into the "Women's Hall of Honor" at the YWCA. In 2000 Elma became an Extraordinary Minister of the Eucharist for St. Vincent de Paul Catholic Church, a service she performed for 18 years.
Elma enjoyed entertaining family, friends and a crowd of bridge players, where she excelled. Traveling, gardening and professional basketball games were always favorite pastimes, but Elma's greatest joy was closeness of family, success of her sons and grandchildren, love of her daughters-in-law and the constant contact of the Ridl families.
Elma is survived by two sons, Joe (Judy) and Steve (Pam); grandchildren Liza, Brad (Emily) and Sarah (Sam); great-grandchildren Tyler, Chase, Logan, Gretta and Beckett; sister-in-law, Ellen Falvo; and many dear nieces and nephews.
A funeral Mass was celebrated on Sept. 7 at St. Vincent de Paul Catholic Church. Interment at Mt. Calvary Catholic Cemetery.
In lieu of flowers, Elma requested gifts to St. Vincent de Paul Catholic Church or the YWCA of Salt Lake City. Elma also desired the Highland Drive Sunrise Senior Living Center be remembered for the outstanding professional and loving care they provide.
God bless Elma, may she rest in peace.