Enthusiastic reception for Bishop Solis
Friday, Jan. 20, 2017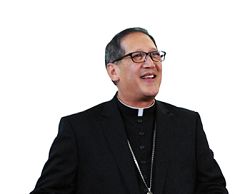 Intermountain Catholic
+ Enlarge
SALT LAKE CITY — For almost 22 months the Catholic Diocese of Salt Lake City awaited the appointment of a new bishop. That wait came to an end on Jan. 10 with the announcement of the name of the 10th Bishop of Salt Lake City.
At the press conference held at the Pastoral Center on the day of the announcement, Bishop Oscar Azarcon Solis said that he "comes with an open mind and an open heart … in order to learn what I need to do to become a good shepherd, a good father, a good pastor and to work collaboratively with other people."
Bishop Solis is the first Filipino-American to be ordained a bishop in the history of the United States, and now is the first to be appointed to lead a diocese. For the past 13 years, he has served as the Auxiliary Bishop of the San Pedro Pastoral Region of the Archdiocese of Los Angeles, which has the largest concentration of Filipino Catholics in the U.S. Since 2006 he has served on the USCCB subcommittee on Asian and Pacific Affairs.
In Utah, reaction to the appointment was enthusiastic.
"I am looking forward to collaborating with him to help him spread the love of Christ to all the Catholics in the diocese," said Father Rene Rodillas, pastor of Saint Olaf Parish in Bountiful. "As a Filipino and part of the clergy of the diocese, I am excited to work with him because of his experience in his former assignment."
Fr. Rodillas said that when he learned of the appointment at 4 a.m. the day it was made public, he felt overjoyed and very grateful.
"I was, and am, excited and overjoyed because at last, after waiting for almost a couple of years, we were given a bishop, and then it doubled my joy because the new bishop happens to be Filipino," said Fr. Rodillas, one of two Filipino priests in the diocese.
In the Archdiocese of Los Angeles, Bishop Solis supervises 67 parishes and eight Catholic high schools. In the Diocese of Salt Lake City he'll be supervising 69 parishes and 16 Catholic schools that serve students from pre-K through high school.
At the press conference, Bishop Solis said that he is very excited to get to visit "every corner of the Beehive State."
The bishop also expressed his interest in participating in ongoing interfaith efforts, and working with the leadership of The Church of Jesus Christ of Latter-day Saints and other faith communities. The Catholic diocese has a "history of ecumenism with other communities," he said.
The Church of Jesus Christ of Latter-day Saints issued a statement welcoming Bishop Solis, saying, "The LDS Church has been blessed by the goodness and faithfulness of his predecessors, and we look forward to building a friendship and partnership with Bishop Solis as we work together to serve the people of Utah. Mabuhay, Bishop Solis!"
Utah Governor Gary Herbert also issued a statement expressing his reaction to Bishop Solis' appointment.
"I warmly welcome Bishop Oscar Azarcon Solis to the Beehive State as the newly appointed leader of the Salt Lake diocese," the governor said. "He will be a force for compassion and goodness in our state, caring for those in need and bolstering a strong community of faith that has provided remarkable support and charity to Catholic and non-Catholic Utahans alike."
According to the Diocese of Salt Lake City, about 60 percent of the Catholics in Utah are Hispanic, 34 percent are White and 5 percent are Asian or from other cultures.
Masses in the state are celebrated in a variety of languages, including English, Spanish, Vietnamese, Filipino, Polish and Arabic.
Bishop Solis speaks English, Filipino and Spanish.
Archbishop John C. Wester of Santa Fe, Bishop Solis' predecessor in Utah, said the appointment is "wonderful for Salt Lake and the Wasatch Front. … He's quite good at appreciating the various cultures and how they come together."
Bishop Solis "is very gentle, pastoral, kind – he has a very good sense of humor; he is a good listener," the archbishop said.
"I see Bishop Solis as a joyful man, easy to use self-depricating humor and, most importantly, full of great love," said Andy Airriess, State Deputy of the Utah Knights of Columbus, who attended the press conference and spoke briefly with the bishop afterward. "He reminds me a lot of my pastor, Fr. Javier Virgen[of St. Joseph the Worker Parish], in mannerisms, speech and holiness. We are blessed to have him as our bishop. As a Knight I am happy, too; Bishop Solis is the Knights of Columbus California state chaplain. While I feel for our brother Knights in California and their loss, we Utah Knights are happy to have such a strong supporter of our order and our works in support of our parishes, our religious and the needy."
Bishop Solis will be installed as the 10th Bishop of Salt Lake City on March 7. Admission to the Mass of Installation is by invitation only. A public reception will be held that evening from 6 to 8 p.m. at the Salt Lake City Marriott Downtown at City Creek, 75 S. West Temple. The Solemn Vespers service on March 6 at 7 p.m. is open to the public.