Erminda Herrera
Friday, Jul. 23, 2021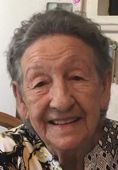 Courtesy photo
+ Enlarge
December 3, 1927 ~ July 2, 2021
Erminda Herrera, 93, passed away peacefully with her family at her side on July 2, 2021. Our beloved mother was born December 3, 1927, in Coyote, New Mexico. She grew up in Coyote. Erminda grew to know and love Waldo, to whom she was married in 1954. Then they moved to Monticello in the 1960s; then moved to Salt Lake City and raised their children.
Erminda is the heart of her family and will be lovingly remembered by all who knew her. She was a homemaker, devout Catholic and loved to spend time with family and friends.
She remained faithful to Waldo for 62 years. Survived by Tony (Christina), Benney (Esther), Rita Stelmach, Gregory (Connie), Michael (Jamie) and Mary (Tino) Valles, as well as many grandchildren, great-grandchildren and great-great-grandchildren.
She was preceded in death by her husband Waldo; parents Benino and Ana Maria De Herrera; brothers Benino, Miguel, Juanito, Amadeo, Jose Lorenzo, Jose Eugenio; sisters Leonedes, Maria Patroncinia, Cayetana Chacon; and great-granddaughter, Deja Herrera Zubiate.
A funeral Mass was celebrated in Erminda's honor July 8 at Saint Patrick Catholic Church. Serving as pallbearers were Paul Herrera, Elias Herrera, Phillip Herrera, Manuel Stelmach, Greg Herrera Jr. and Matthew Valles. Committal followed at Salt Lake City Cemetery.
Erminda's family entrusted the care of their beloved mother to the Neil O'Donnell & Sons Funeral Home, Salt Lake City. Thank you to the staff of University of Utah Hospital and Lincare; and all the priests who administered the sacraments.