Evelyn Faye Ninow Duffy
Friday, Jul. 29, 2022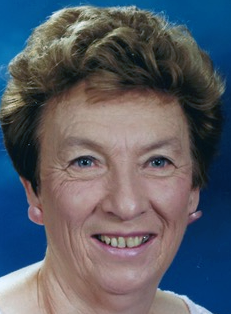 + Enlarge
April 22, 1930 ~ July 5, 2022
Our family joins together to say goodbye to our dear mother, Evelyn Fay Duffy. Married for 69 years, she joins her husband, Mathew, who died seven years ago.
She was an avid Charlie Pride fan and first got to know him while living in East Helena, Montana. When Mathew decided to go out as an independent truck driver, she got her commercial driver's license and joined him as a driving partner. They crossed the United States many times.
For many years she was a choir member at St. Ambrose Parish, and she and Mathew developed many friendships. She loved her home and had many family gatherings from holidays to summertime pool-side parties.
Evelyn is survived by her two sisters Jeanine and Jackie; her six children Bev (Arizona), Patty (Utah), Peggy (Washington), Vicky (Utah), Tom (Utah) and Kim, husband Mike (Utah); 11 grandchildren Nick, Jerod, Josh and Chad, Brittney, Zach, Brady, Kyley, Mathew, Elizabeth and Jake; many great-grandkids as well as many nieces and nephews.
She is preceded in death by her husband Mathew (Tom) Duffy, her parents, her sister Mary and sons-in-law Stewart Johnson, Art Pitman and Layne Frehner.
A memorial Mass was celebrated on July 14, 2022 at St. Ambrose Catholic Church in Salt Lake City. She was laid to rest at Mt. Calvary Catholic Cemetery.