Expansion enhances engineering and science learning at Skaggs Catholic Center schools
Friday, Aug. 26, 2022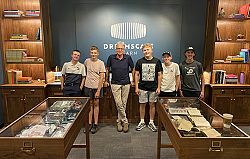 Courtesy photo
+ Enlarge
DRAPER — Students at Juan Diego Catholic High School and St. John the Baptist Middle School found an expanded campus and a whole host of new opportunities when they went back to school last week.
The expansion includes a new hands-on engineering lab and eight science lab classrooms. Four renovated large-scale collaborative classrooms in the high school will offer greater opportunities for students learning in teams. Newly renovated high school and middle school computer labs with the latest technology will provide students with learning and research opportunities. The high school also has added an Innovated Technology course.
It is an exciting time for the science and technology program at the school, said Dr. Christine Celestino, director of faculty development.
"It has been incredible to witness how our science and technology programs have grown in the 17 years that I have taught at Juan Diego," she said. "We went from offering just basic science classes to every AP science, as well as several options for independent research. Our Academy of Sciences program is now in its 10th year. We accomplished all of this growth with just four lab spaces, all set up for generic science classes. I cannot wait to see how we will continue to grow with the expansion providing us with eight state-of-the-art lab spaces, each specifically designed for its subject area. Our teachers will be able to do so much more with our students, and our program will benefit tremendously."
In addition, continuing Juan Diego's long-standing partnership with Arizona State University, a Dreamscape Virtual Reality Lab is underway. This will offer a state-of-the-art virtual reality space, a dream come true for teacher Richard Perrine.
"Outside of my primary roles as the high school computer programming instructor, I get to help establish an innovative engineering course that will immerse students in hands-on, technical, creative activities," he said. "The virtual reality program presents a very different, but equally creative, challenge and level of excitement. After having visited ASU and witnessed the Dreamscape VR system in person, I am sold that this will be a unique and incredibly interdisciplinary experience for students, staff and our community. It will be awesome."
Five Juan Diego students visited Arizona State's virtual reality lab Aug. 2-5. During their visit, junior Matthew Howard and sophomores Gavin Brady, Spenser Kane, Zach Abbott and Roberto Villeta produced two short virtual reality experiences.
"This was the highlight of the trip," Perrine said, adding that students are looking forward to programming more immersive environments in JDCHS' VR lab.
"Juan Diego's VR lab will also be a great resource to enhance curriculums for many departments," said Tim Howard, a parent volunteer on the trip. "Imagine a biology class that uses VR technology to transport students inside a cell to witness a virus attaching to receptors. This is exciting technology."
The new expansion is part of Juan Diego's commitment to offering its students the most current instruction in STEM subjects.