Experience life as a refugee at CCS event
Friday, Sep. 14, 2018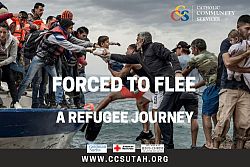 Courtesy photo
+ Enlarge
SALT CITY — Utahns will have a chance to experience life in a refugee camp on Sept. 27 as Catholic Community Services of Utah holds an exhibit that will guide people through the process of becoming a refugee.
Adan Batar, director of CCS' Refugee and Resettlement program, said the "Forced to Flee – A Refugee Journey" event came alive because many members of the local community have no notion of what it takes to be a refugee.
More than 68.5 million people worldwide have been forced to flee their homes because of persecution and violence. Since 1975, CCS has resettled thousands of refugees from numerous countries such as Afghanistan, Iran and Vietnam. Several parishes in the diocese participate in the Parish Resettlement Ministry to help refugees transition to the American lifestyle, teaching them basic life skills.
"We want the children and families to learn what refugees have to go through and what conditions they have to overcome while they were in the refugee camps," said Batar, who invites everyone to attend the exhibit.
These types of events educate the public and create awareness of the issues, "so our community can support the refugees," said Batar, adding that CCS wants the community to welcome the refugees "and help them with their successful integration to our community. We also want the community to support Catholic Community Services of Utah so we can continue the vital services that we provide to refugees."
CCS is excited to host the event, said Danielle Stamos, the organization's director of public relations and marketing. "We hope this event will raise awareness of those in our community and around the world who were forced to leave their homes for safety and the hope of a better future for their family."
Learning about the issues from a variety of perspectives is one of the best ways for people to understand a situation, she said.
"This event is great for the whole family as we teach about the experience of refugees in an interactive way," she said. "Our goal is that families will leave this event with a new understanding of what is happening locally and globally."
At the event, those who will serve as guides through the mock refugee camp will be members of the CCS staff who were refugees.
"They are former refugees who have lived and experienced refugee camps first-hand," Stamos said.
WHAT: Forced to Flee – A Refugee Journey
WHEN: Thursday, Sept. 27, 5-7:30 p.m.
WHERE: Gallivan Center, 239 Main St., Salt Lake City
Free and open to the public. Donations will be accepted. For information, call 801-977-9119 or visit www.ccsutah.org.