Faith communities in Orem unite for suicide prevention
Friday, Jun. 15, 2018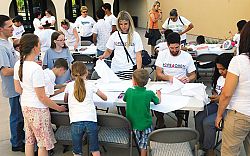 IC photo/Laura Vallejo
+ Enlarge
OREM — A faith walk to raise awareness of the increasingly high rate of suicide among youth and teenagers in Orem took place June 5.
The Hope4Orem one-mile walk was part of the Orem Summer Fest activities. It started at Saint Francis of Assisi Catholic Church, proceeded to a nearby ward of The Church of Jesus Christ of Latter-day Saints and ended at Orem Community Church.
Hope4Orem started in January as a suicide awareness and prevention movement, said Janis Lindley, the event organizer.
Utah has a high suicide rate, and more prevention can always be done, she said, adding that the Orem group is working to become a chapter of Hope 4Utah, a nonprofit suicide prevention organization.
The Orem walk was important because faith and religion have a predominant role in suicide prevention, Lindley said.
"If you are religious and have faith, that can be a protective factor against suicidal completion, so we wanted to promote faith and religion in our community and we wanted to unite the different faiths and religions in our community," she said.
For the walk, people were encouraged to wear white. Participants also made white flags with messages in English and Spanish that included "#God," "#Faith," "God loves you," and "you are not alone."
"I think that it is important to say that religion and faith can be a preventive factor, and the reason is because in a faith-based community, no matter what the religion is, you have got a community of support. You can go to your friend and leaders in that community and talk to them," Lindley said.
That was one factor that encouraged Saint Francis of Assisi parishioners to participate in and host the walk.
Julie Boerio-Goates, the parish's pastoral coordinator, said that they have detected at least a handful of young people who are suffering from anxiety.
"They have approached us looking for advice," Boerio-Goates said. "Part of the objective of having this march is to make people aware and to have materials in English and Spanish available so that we can guide our youth."
Among those who participated in the march was Yara Betancourt, a Saint Francis of Assisi parishioner and coordinator of the parish social ministry.
"I am here because I am part of Saint Francis of Assisi and the other part is because I have young children and I want to learn more and educate myself more about this theme," Betancourt said.
"The message of this walk is to have faith in God. … When you have faith you have hope. … When you have hope, that leads to charity and being engaged in the community. We all have challenges, but we are all here for a reason, God wants us love each other," Lindley said.