Family helps continue St. Olaf School heritage
Friday, Sep. 25, 2020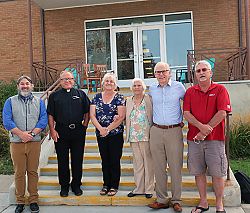 IC photo/Linda Petersen
+ Enlarge
BOUNTIFUL – A family with deep ties to St. Olaf Catholic School has established a scholarship endowment that will benefit future students. Catherine "Midge" Gourde, who has lived just five doors west of the site for most of her married life, was honored by school officials, students and Principal Simon McFall at a ceremony Sept. 15. St Olaf Parish pastor Fr. Andrzej Skrzypiec gave the prayer, thanking God for the Gourde family and the school's students.
Three of Gourde's 11 children – Rick Gourde, Thomas Gourde and Mary Gourde Rakowski – attended the event. Rick and Mary were among the first students to make their way up the front stairs on the day the school opened in the fall of 1960. The family had moved in just down the street the year before and had watched the construction of the school with great interest. Nine other siblings followed the two into the ranks of St. Olaf students.
Midge Gourde said she and her husband were only able to afford to send all of their children to St. Olaf's because of then-pastor (later Msgr.) Father Robert Pollock.
"He told us if we would just tithe on our income then we would be able to send our children here without having to pay fees, so we did," she said. "They've all done very well because of the education they got here at St. Olaf's."
Rick Gourde's three children also attended St. Olaf's; the last, his daughter Ginger, graduated from the school in 2000.
"In my mind, Midge is the embodiment of what it means to be a Catholic school parent," McFall said. "She is someone who is committed to not just our school but to our faith community. Her family, her own efforts, both her and her husband's, have given a sense of stewardship to our community. Today, [we are] gathering to celebrate the fact that her family has made a donation to an endowment that will create an annual scholarship fund, that will celebrate her commitment to Catholic education, her commitment to the St. Olaf community and most importantly, her commitment to the future of this school."
At the ceremony, McFall presented Midge Gourde with a certificate indicating that the school will now commemorate every Sept. 15 as Catherine Midge Gourde Day. The principal of 141 students said he is thrilled to receive the scholarship, which should provide funding for one student's education at St. Olaf each year. A significant number of the school's students are helped through scholarship funds, he said.
"A family like the Gourdes represents the stewardship that we should instill in our Catholic schools. It's the cycle of care," McFall said later. "You don't just come to a Catholic school for an education; you come to be part of a faith community and part of that means you're taking on the stewardship of the community. You're not just coming in to go from 8 to 3; you're coming in to live the life and a part of that means continuing to care long past your time here."
Sept. 15 is the anniversary of Midge Gourde's marriage to her husband Richard, who died in 1990.