Family of 10 to be welcomed into the Church at Easter
Friday, Mar. 25, 2016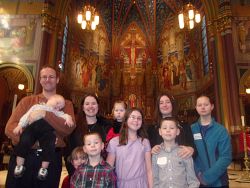 + Enlarge
OREM — Mark and Desiree Hausam and their eight children will be received into full communion with the Catholic Church during the Easter Vigil at St. Francis of Assisi Parish in Orem on March 26.
Only the youngest, who is 1, will be baptized; the other family members were baptized into the Orthodox Presbyterian Church.
Mark grew up in Missouri, Illinois and Utah; his family moved about every three years, he said. His parents were active members of the Evangelical Free Church, and occasionally attended a Baptist church.
"I became serious about religion in Evangelical circles when I was about 13, and was interested in and influenced by people like C.S. Lewis and Catholic authors like G.K. Chesterton," Mark said. "I started moving toward the more reformed tradition of Christianity and became a Calvinist in college."
Desiree grew up in Pennsylvania and was baptized Lutheran, but her family did not attend church, she said. When she was 15 she began attending a United Methodist Church; "that is when I came to faith and became very involved in church," she said.
Mark and Desiree met in 1996 at Wheaton College, in Wheaton, Ill., a liberal arts college that has a strong evangelical Protestant tradition. When they married in 1998, they were on the same religious path, an important element of their marriage, they said. They moved to Utah in 2000, where Mark's parents were living "not sure what our next step was after graduating," Desiree said.
They joined an Orthodox Presbyterian Church, where they remained until just over a year ago when they began their transition into Catholicism, Mark said. The main catalyst for the change was they were having problems with sola scriptura, a doctrine that teaches that the Bible is the supreme authority in all matters of doctrine and practice.
By contrast, the Catholic Church bases its teachings on Scripture, the Magisterium and sacred tradition.
"We tried very hard to practice sola scriptura," Mark said. "We looked at the Orthodox Presbyterian doctrine closely for a couple of years until we came to the conclusion that it was flawed."
Mark had also researched and studied the history of Christianity, which led to their rejection of sola scriptura and their moving into the Catholic Church, he said.
"We have been studying the Catholic Church as a family for a year," Mark said. "It was at the St. Patrick's Day parade last year, while we were watching one of our daughters do Irish dance, that I made my decision to transition into the Catholic Church. I brought it up to my wife, but she had already come to the same conclusion independently."
After deciding to join the Catholic Church, the family spent Sunday afternoons discussing and learning about the Catholic faith.
"We read the Catechism of the Catholic Church together, and I read it through myself as well, we were trying to be thorough," Mark said. "We joined the RCIA program last year on Palm Sunday."
Many of the intellectual objections the family had, such as the intercession of the saints and images, went away once they no longer practiced sola scriptura, Mark said.
"Experientially and practically it took longer to get used to images and Marian devotion," he said. "In the kind of Presbyterianism we were in, that would be viewed as idolatry. Mass at first was very foreign, but we are feeling comfortable now."
Desiree could not look at the crucifix for a while; the symbolism was too lifelike for her, she said.
The Hausams are enjoying Catholic traditions now, they said. "It has the feeling of opening up a room that has been too stifled; it is a much fuller experience," Mark added.
Mat Bickley, who along with his wife, Sherri, is the adult RCIA instructor at St. Francis of Assisi Parish, said the Hausams are unusual in his experience.
"It is very rare to get somebody that is so educated in the faith before they ever start RCIA," he said. "Mark and Desiree have a great biblical background. They have studied the Catholic Church thoroughly, and they speak up and add to what the instructors are saying; it is like they are students and teachers at the same time. They are both so qualified, I hope they will help us teach next year. I can truly tell they live their faith at home."