Father Anastasius Iwuoha increases his pastoral responsibilities
Friday, Sep. 07, 2012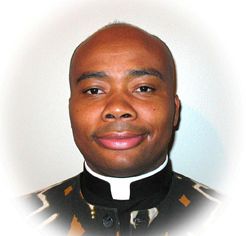 Courtesy Photo
+ Enlarge
(Editor's note: This is one in a series of profiles of Diocese of Salt Lake City priests who have new assignments this year.)
COPPERTON — Father Anastasius Iwuoha began his assignment at Immaculate Conception Parish in Copperton Aug. 17. His main responsibility will be to offer sacramental ministry. He will continue to be Saint Joseph Villa's chaplain and pastor and will also continue to celebrate weekend Masses at the Carmel of the Immaculate Heart of Mary Monastery.
Two years ago Fr. Anastasius filled in for eight months in the same role at Immaculate Conception Parish while Fr. Dennis Ruane served a mission in Africa. Fr. Ruane is now retired.
"Immaculate Conception is a wonderful and lovely parish," Fr. Anastasius said. "I am looking forward to a very spiritually enriching encounter with the people there. It is a small parish but the people there have very big hearts; they are so committed, hospitable and caring, and they look after one another."
Fr. Anastasius was born and raised in Nigeria. His first inspiration to become a priest came from his family, who provided the environment for his faith; they were very solid Catholics, he said.
"They instilled in me the Catholic culture and gave me a deep environment for enhancing the Christian faith and the sacraments," Fr. Anastasius said. "On a second level, I was influenced by a senior seminarian I met before becoming a seminarian. Answering the call to the priesthood is an ongoing process."
Fr. Anastasius was ordained a priest on Aug. 27, 1994 in Nigeria by Bishop Gregory Ochiagha. In 1998, while Fr. Anastasius was serving as a parish priest, the bishop sent him to receive a master's degree in secondary education at John Carroll University in Cleveland, Ohio. In 2001 he went to the Diocese of Juneau, Alaska.
Four years later he came to Salt Lake City to enroll in the Clinical Pastoral Education (CPE) program at St. Mark's Hospital. After completing that program, he requested to serve in the Diocese of Salt Lake City, and was assigned to pastoral care at Saint Joseph Villa in 2006.
"The ministry of caring for the sick has been a big area of focus for me since my ordination," said Fr. Anastasia. "I ministered to the sick a lot when I was in Nigeria. For instance, I remember once getting a request to visit a man who had tuberculosis; his pastor was afraid to visit him. I knew it was highly risky, but he was really suffering. I felt nervous after visiting him, so I was tested to see if I had contracted tuberculosis, but I had not. I have had the desire for this ministry for a long time; to serve people in need and that is why I wanted to get into the CPE program. I wanted to sharpen my skills for visiting the sick to be really present with them in their suffering."
During a typical week at St. Joseph Villa, Fr. Anastasius celebrates Mass, visits the residents and takes communion to the Catholic residents, and also visits hospital patients. He visits new residents to see if they are Catholic and talks with various others about their issues, he said. He also holds Holy Hour on Wednesday from 3 p.m. to 4 p.m., and tries to have a service to anoint the sick at least once a year.
"Sometimes I join the residents during their activities, but it is difficult now that there aren't as many of us in spiritual care," he said. "The nature of St. Joseph Villa is that some people come to stay until they pass away, while others come for a short stay and go home, or return to the hospital for more treatment. I also visit the sick in their homes to take communion to them when they request it."