Father Joseph S. Rooney
Friday, Aug. 03, 2012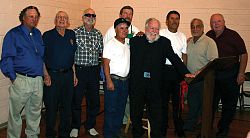 Intermountain Catholic
Photo 1 of 2
PAYSON — San Andres Parish in Payson bid farewell to Jesuit Father Joseph S. Rooney with a retirement party in his honor July 21.
Fr. Rooney will leave Aug. 1 to reside at Murray Weigel Hall, an infirmary for Jesuit priests on the campus of Fordham University in Bronx, N.Y.
"We are happy to see him retire because his health has not been well, but we will miss him," said Monsignor J. Terrence Fitzgerald, vicar general emeritus of the Diocese of Salt Lake City. "We are so grateful for the ministry he has shared with us and for his priestly service and his kindness to priests. "
Vicar General Monsignor Colin F. Bircumshaw, agreed Fr. Rooney will be missed, "but we will keep in touch," he said. "Fr. Rooney has probably pastored every rural parish in the diocese and knows the diocese better than 90 percent of the priests because of his enormous generosity. He would do whatever was asked, whenever he was asked."
Fr. Rooney has been pastor of San Andres Parish since 2004, and is known for his homilies and as a good confessor.
"He always made time for confession," said parishioner Ruth Torres.
"He is absolutely the best confessor I ever went to and his sermons were always excellent," said parishioner Helen Kesler.
Parishioners Marleni and Roberto Molina said they are going to miss Fr. Rooney's sense of humor and jokes.
Fr. Rooney also supported the youth group, said Bernie Pacheco, parishioner. "He has been a high school teacher and knows the kids are our future," she said. "They are really going to miss him."
Fr. Rooney grew up in Jackson Heights, N.Y., and attended Blessed Sacrament Parish and school, run by the Jesuits. His two older brothers are Jesuit priests and he started visiting them in the seminary when he was 10, he said.
"The Lord only knows when I actually heard the call. I knew by the end of high school that I wanted to be a Jesuit priest; I liked what Ignatius Loyola stood for."
He graduated in 1952 from Mount Saint Michael Academy in the Bronx, N.Y., and entered the novitiate at Saint Andrew-on-the-Hudson in Poughkeepsie, N.Y. in 1953. He then attended Loyola Seminary in Shrub Oak, N.Y., and at the same time, taught for three years at Xavier High School in New York City. He studied theology at Woodstock College in Woodstock, Md.
Fr. Rooney was ordained a priest on June 9, 1966 at Fordham University in New York. He studied in England from 1967-1968 before teaching physics and electronics at Fordham Preparatory School in New York from 1968 to 1998.
Fr. Rooney also spent the summer months in Utah from 1987 to 1998.
"Fr. Rooney was very generous in coming to Utah to provide assistance in our mission parishes for vacationing priests," said Msgr. Fitzgerald. "When he retired from Fordham Prep, he asked if he could serve in Utah full time. We welcomed him with open arms. Fr. Rooney is one of the most warm-hearted, generous and compassionate priests that you would want to know."
Fr. Rooney came to Utah full time in 1998 and was assigned to Saint Pius X Parish in Moab until 2004.
"Being a priest, you learn that you don't know everything," said Fr. Rooney of his 46 years. "I am constantly learning. There is a phrase from a musical talking about a teacher which says, 'by your students you will be taught.' That was true when I was a teacher and it's true in the parish. I learn more from what the people ask or need and I've learned I have to respond positively. As a priest or teacher, you're a leader and you have the responsibility of leading people to their salvation and by what you do, you obtain your own salvation.
"We are all called to love, honor and serve God and be happy with him in eternity, so I would ask a young man considering the priesthood what ability he has to serve God more faithfully as a priest," he said. "God chooses us and it's up to us to respond if we have that call."
Fr. Rooney has maintained his faith through formal prayer by offering the Eucharist at Mass and through mental prayer contemplation. "Just by thinking quietly, you can communicate with God," he said.