Father Robert Moriarty celebrates 20th anniversary
Friday, Jun. 22, 2012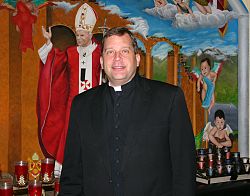 Intermountain Catholic
+ Enlarge
KEARNS — Father Robert Moriarty, pastor of Saint Francis Xavier Parish, will celebrate his 20th anniversary of priestly ordination June 27. He was ordained June 27, 1992 at Saint Ambrose Catholic Church; the Cathedral of the Madeleine was being renovated at the time.
Fr. Moriarty was born in 1966. His first five years were spent in Kearns as a member of St. Francis Xavier Parish. He was brought up in a strong Catholic family, he said. "We became members of Saints Peter and Paul Parish in West Valley City when it first opened in 1972. We attended church every Saturday night and we never missed Mass no matter what," even on vacations, he said. "My father is a convert and strangely, with the Irish name Moriarty, you'd think he would've been Catholic. I just have one older brother and he's a police officer in Taylorsville."
Fr. Moriarty attended West Kearns Elementary and Kennedy Junior High schools and graduated from Kearns High School. He was majoring in biology at the University of Utah when he began to consider his options, including teaching, doing research, getting married or entering the priesthood. "I called the Diocese of Salt Lake to explore the possibility of becoming a priest and discerned the priesthood during my junior year of college," he said. "I entered Mount Angel Seminary in 1987 and finished college there. I finished seminary in 1992."
His first assignment as a priest was at Saint Joseph Parish in Ogden, where he also taught biology and theology at Saint Joseph Catholic High School for two years. "I was not real happy as a teacher and asked for an assignment change," Fr. Moriarty said. "In 1994, I was sent to the Catholic University of America in Washington, D.C., for three years to pursue a canon law degree. In 1997 I started working in the diocesan Tribunal office with Monsignor John Hedderman, who was a wonderful man, very kind and generous and passionate."
From 2000-2003, Fr. Moriarty was assigned to Juan Diego Catholic High School as a chaplain and theology teacher. Also during that time, he served as a chaplain for the 2002 Winter Olympics in Salt Lake City.
"I was at Juan Diego when they were just getting off the ground and we were able to have all kinds of dedications for new pieces of art, special prayer services, and ceremonies like the junior class advancement ceremony when the junior class got their school rings," he said. "It was an exciting time because we made up the ceremonies as we went along because we hadn't had them before and created all the senior class awards and the graduation ceremony for the first graduating class."
In 2004, Fr. Moriarty was reassigned to St. Francis Xavier Parish, where he has been for the past eight years.
In his 20 years as a priest, Fr. Moriarty has learned that people will forgive almost any fault a person has except for being unkind, he said. "For me, learning patience and kindness have been my biggest challenges as a priest."
Fr. Moriarty would tell a young man discerning the priesthood to carefully consider his options and gain some life experience before pursuing his decision. For example, "going to a secular university so he doesn't see the priesthood as an isolation from the world, but to see it as a way to become closer to the people of God," he said. "The priesthood does give a person a sense of being able to help those in need. I know that I have made a difference in people's lives when they were vulnerable. The salvation of the sacraments brings comfort at the most important times in people's lives."
Fr. Moriarty maintains his spirituality by celebrating the sacraments and preparing homilies, he said. "I also teach the eighth-grade religion classes at St. Francis Xavier School, which helps me stay in touch with the younger generation. I also am a beekeeper and I love fly fishing."
The changes he has seen in his 20 years include the overwhelming increase of the need for Hispanic ministries with the growing immigrant population, he said. "I have also witnessed the transformation of the immigrant youth embracing the English language, not to the exclusion of Spanish," he said.