Father Rodillas prepares for his new assignment at St. Olaf Parish
Friday, Jul. 15, 2011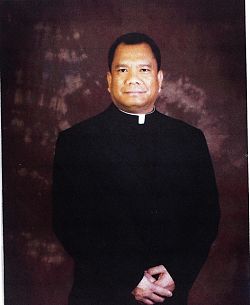 Intermountain Catholic
+ Enlarge
WEST VALLEY CITY – In 2004, Society of the Divine Word Father Reynato T. Rodillas came to the United States from the northern part of the Philippines planning only to visit his aunt in San Francisco. The visit lengthened to three years after the pastor of Fr. Rodillas' aunt's parish invited him to stay and help. Fr. Rodillas stayed, even applying to the Archdiocese of San Francisco for a position, but was turned down.
"In 2007 I decided to go back to the Philippines for the mission because I belong to the missionary society of the Divine Word," Fr. Rodillas said.
But God had other plans for him. A priest who happened to be a classmate of the Most Reverend John C. Wester, who was transitioning from being Auxiliary Bishop of the Archdiocese of San Francisco to being Bishop of Salt Lake City, wrote a letter informing him about Fr. Rodillas' work and about his decision to return to the Philippines.
"When I was about to return to the Philippines, Father Martin wrote a letter to Bishop Wester telling him that I was here, so a week after that Bishop Wester called me and said, 'Why do you need to go back to the Philippines when we have a need of priests here in Utah? Why don't you come and join us?" said Fr. Rodillas, who did go back to the Philippines, but just to exchange his tourist visa for a religious working one.
Fr. Rodillas was working in the Diocese of Salt Lake City by October 2007, just shy of 10 years after he was ordained a priest at the Divine Word seminary in the Philippines by Bishop Manuel Sobrevinas.
As a child, Fr. Rodillas never dreamed about becoming a priest.
"I was already in college when I got involved with our youth ministry in the Philippines and some of my priests told me I had a vocation to the priesthood but I was not taking it seriously," he said. "It wasn't until I met the missionaries of the Divine Word that I become interested."
Still, he didn't enter the seminary until five years after he graduated from college. His family was hesitant about his vocation to the priesthood: usually Filipino parents send their children to school so that in later years the children can provide a secure future for the family.
"That's why they give the best education to their children, so in their elder days they can take care of them, and my parents are no exception to any ordinary Filipinos," said Father Rodillas, who has three sisters and one brother. He is the middle child and was 28 when he entered the priesthood.
Fr. Rodillas speaks seven languages: four dialects native to the Philippines, Spanish, German and English. He has served as parochial vicar in Saint George and Saints Peter and Paul parishes. In August, he will take the assignment of administrator at Saint Olaf Parish.
His expectations in his new assignment are just to be able to work with the community.
"At St. Olaf there are a lot of good things that I have heard about the community, and I already met some members," said Fr. Rodillas. "My wish is that the community will be able to work together, especially in living the Gospel, and all of us will become one family. I am very excited."