Fear, hope, struggles and faith: Mixed reaction from Utah's Catholic immigrants to new federal policy
Friday, Mar. 03, 2017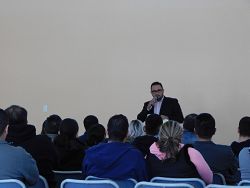 IC photo/Laura Vallejo
+ Enlarge
PARK CITY/OREM — Stories of the struggles, fear, hope and faith of Catholic immigrants from different parishes in the Catholic Diocese of Salt Lake City can be heard all over the state of Utah.
Nancy M. (last name withheld for privacy reasons) arrived in the United States when she was very young. Now the mother of three, she has worked all types of jobs to support her family, and hopes that, with the recent increased enforcement of immigration laws, she won't be deported and have to leave her children behind.
"Every day I wake up praying, and go to bed praying even harder, so I can stay with my kids here," said Nancy, who is undocumented.
When she crossed to the U.S. she had the dream of being able to have a better life and being able to provide for the parents and siblings whom she left behind in Chiapas, Mexico.
"Since then I have sent money to them every week. ... I haven't seen them in more than 10 years," she said, adding that her children are her motivation to keep on working hard, and as much as she can.
Now, however, she is very, very frightened.
"Every time I hear that someone has been 'levantado' (picked up by immigration authorities), I start shaking. … My kids all have been born here. They are still very young, and if I ever get detained and deported I can't even think what is going to become of them," she said.
Her only resource now is her faith, she said.
"I try to go to the parish as much as I can, but I am also scared of going out. I feel that they are following me. It's a weird sensation," said Nancy, a parishioner at Saint Mary of the Assumption Catholic Church in Park City.
Her fears increased after the local media reported Feb. 18 that Immigration and Customs Enforcement (ICE) had detained four people in Park City, she said.
Juan S. (last name withheld for privacy reasons) shares the same feelings.
He crossed the U.S./Mexican border more than 15 years ago, running from the violence of his hometown in El Salvador. He has worked a variety of jobs, such as janitor and gardener, at Park City resorts.
"I have always worked as hard as I could despite the limits of my situation," said Juan, who also is undocumented.
With all the news about the deportations, Juan said that every day he holds a crucifix that hangs around his neck, asking God to protect him.
"I am now married and I have two kids. My wife and I fear every day that I won't come back home," Juan said.
The recent events concerning immigration have created "a very difficult situation," said Mary Jones, director of immigration services of Holy Cross Ministries, one of the two largest non-profit programs that offer immigration services to the community in Utah. "Right now we are uncertain of how the law is being enacted. It's changing very often. Nobody knows exactly what's going on."
Jones participated in a Feb. 23 immigration panel that took place in Park City. The panel was intended to inform the community about their rights and how to be prepared in case ICE knocks on their doors.
In Orem, the social action ministry of Saint Francis of Assisi Parish organized a Feb. 26 immigration panel to inform the community of the immigration guidelines that were released last week by the federal government, how to be prepared if someone gets detained and what documents are handy in case of a detention.
Juan Carlos Gutierrez, an attorney originally from Guadalajara, Jalisco, Mexico, led the presentation.
"People that ICE is looking to get deported are people that have felonies on their records," Gutierrez said.
He gave the following suggestions to the attendees: If they are detained: remain silent, or tell the ICE agent that they want to remain silent; ask to speak with an attorney; do not carry false documents but do carry a "know your rights" card; have the contact information of a reliable immigration attorney; know their "alien registration number" ("A" number) if they have one, and write it down someplace at home where their family members know where to find it; and prepare a document that authorizes another adult to care for their minor children.
He also suggested that community members advise their family members who do not want to be questioned by ICE to stay away from any place where a raid has occurred or where a detained person is being held, and to not sign any documents without first speaking with an attorney.