Final report being prepared from local synod listening sessions
Friday, May. 13, 2022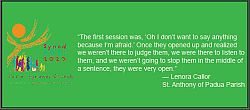 + Enlarge
SALT LAKE CITY — The listening sessions of the "Synod on Synodality," for the Synod of Bishops 2023 now are complete in the Diocese of Salt Lake City, and the diocesan team is compiling the results into a final document, which will be sent to the USCCB by the end of June.
Pope Francis asked each parish worldwide to hold these listening sessions for people, Catholics and non-Catholics alike, to share their thoughts about the nature and mission of the Catholic Church. At the sessions, participants were asked to discuss selected questions from the handbook prepared by the Vatican's General Secretariat for the Synod.
Across Utah, close to 5,000 people participated in the sessions. Members of 21 parishes and missions, four Catholic schools, an interfaith group and a Salt Lake City Catholic LGBTQ+ and allies group gave their feedback on the questions asked of them by the Church. The notes gathered from these sessions will be synthesized by the diocesan synod team into 625 words for each topic. Then a team of editors will assemble a draft of the final diocesan report.
While 5,000 represents only about 0.17 percent of Utah's Catholics, Father John Evans, coordinator for the diocesan synod efforts, said he believes a diverse group of Catholics was represented at the listening sessions. Fr. Evans is pastor of St. Thomas More Parish in Cottonwood Heights.
Participation was voluntary in all the sessions, and parishes and other organizations reported a mixed response to the process.
No one showed up to participate in two scheduled sessions at St. Catherine of Siena Parish in Salt Lake City, Leadership Committee President Michele Paoletti-Schlep said. "I'm a cradle Catholic and this is the first time the Church has asked for input, so I just feel like they missed a really precious opportunity," she added
Just four people joined a Zoom meeting with Salt Lake Interfaith Roundtable members and people of other faiths organized by Fr. Langes Silva, diocesan judicial vicar. The low participation was partly due to a lack of understanding by some Roundtable members of Christian practices and what the Church was asking of them, Fr. Silva said. Those who participated seemed to have difficulty with the questions but appreciated the opportunity to take part, he said.
"One of the things they said was there is a need for all of us as Christians to work together, but how are we going to work together if we do not know about each other?" he said. "If we want to work together on different projects, it's necessary that we know each other before."
Participants from the interfaith group also asked about the practice of having celibate priests in the Church, something that was not a part of their faith, which gave him an opportunity to explain the Church's stance. The experience underscored the need for people of different faiths to learn more about each other, he added.
At St. Anthony of Padua Parish in Helper, parishioners were initially reluctant to participate in the process, notetaker Lenora Callor said. "When it first came out everybody was very, very hesitant. They didn't understand what was going on."
However, after parish organizers further explained the process, and they had been through a first session, several people wanted to participate in a second, Callor said. "The first session was, 'Oh I don't want to say anything because I'm afraid.' Once they opened up and realized we weren't there to judge them, we were there to listen to them, and we weren't going to stop them in the middle of a sentence, they were very open."
Several participants in the listening sessions shared how the pastors, parish and Church helped them through difficult times. They also asked that the priests and parish community be more involved with the children and show more support for them.
Participants "felt as though they were being heard and there was some good direction" at the St. Martin de Porres Parish, Taylorsville, listening session, notetaker Robin Marvive said. They particularly appreciated the interaction with members of the clergy who took part in the discussions. People had different opinions about the questions, but most sought for ideas to bring their family back to church.
"We all came to the same conclusion," Marvive said, "that it was going to be the youth; that we had to engage the youth again into the love of Christ, and not lose them after their sacraments, and that would help engage their families again."
The parish is already working on some options to reach out to the youth, such as community work, she said.
Notetaker George Jockish said parishioners who took part in the listening session at St. Francis Xavier Parish in Kearns were pleased to be part of the process.
"None of us had any idea what we were getting into; we had never done anything like this before. I think they were happy they did it," he said. "At church normally you're told what to do and you just try and follow through. Whether our opinion made any difference, it just seemed like we were part of it, and we learned a little bit about each other."
At the St. Ambrose Parish, Salt Lake City, listening session, participants struggled with what they felt was the vagueness of the questions, notetaker Mary Foye reported. Two scheduled listening sessions were poorly attended. They were not well-advertised and, with the pandemic still active, it may not have been the best time to schedule such events, Foye said. Some parishioners told her later that they had read the topics and felt they didn't have anything to say about those subjects, so they didn't attend the sessions, she added.
In the Catholic LGBTQ+ and allies group Zoom session people had lots to say, notetaker Julie Boerio-Goates said. Participants particularly wanted Church officials to understand their pain as they struggle to be part of the Church, she said, "from the commitment to the Church to wanting to be seen as being human. Often, they are perceived as being different – 'other than,' not being accepted or allowed to participate in Church activities."
These participants expressed compassion and concern for others who are prevented from receiving the sacraments, such as those who have divorced and remarried outside the Church and some people with disabilities, Boerio-Goates said. They also questioned the attitude of parish communities, who, they felt, expected them to justify their presence in the life of the Church.
"Why is it up to marginalized and the minority communities to show the rest of the community that they are human and that they have feelings and that they deserve to be listened to, to participate, instead of just saying, 'This is who we are as Christians?' they asked," Boerio-Goates said.