FOCUS missionaries share Gospel's joy and hope
Friday, Aug. 03, 2018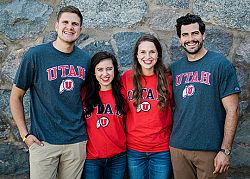 Courtesy photo
+ Enlarge
SALT LAKE CITY — For the first time, four FOCUS students will be at St. Catherine of Siena Catholic Newman Center in Salt Lake City this year.
FOCUS (Fellowship of Catholic University Students) is a collegiate outreach whose members share the Gospel's hope and joy with students at higher educational institutions. The organization has nearly 700 missionaries in five countries; in the United States they are in about 153 universities and colleges in 42 states.
The invitation to come to Utah had been cooking for several years.
Dominican Fr. Lukasz Misko, the parish's director of campus ministry, came to Utah in 2015, right before the Most Rev. John C. Wester, the ninth Bishop of Salt Lake City, was appointed Archbishop of Santa Fe.
Before coming to Utah, Fr. Lukasz was at the University of Washington Newman Center, where he had the opportunity to travel with the students to Catholic conferences in Seattle, he said.
"I started seeing how the students that attend gatherings came back very reinvigorated. They were very powerful experiences and I saw how they became transformed. … Then when I came to Utah, we kept the conversations about the FOCUS missionaries, but for two years we did not have a bishop" who could approve bringing the organization to Utah, Fr. Lukasz said.
As the months passed between the departure of Archbishop Wester and the arrival of Bishop Oscar A. Solis, coordinating the effort to bring FOCUS to the diocese was becoming more and more difficult, he said.
"But now, with Bishop Solis having evangelization as a primary focus point, we were able to invite these missionaries to Utah, and now here they are," Fr. Lukasz said. With Bishop Solis' approval, he issued the formal invitation to Giuliano Mion, a veteran FOCUS missionary who will be among those serving in Utah.
The four FOCUS missionaries will begin their service in Utah the weekend of Aug. 11. Mion, along with Michel Di Lucca, Allison Ward and Macy Becker, will be the outreach campus forces at the St. Catherine of Sienna Catholic Newman Center. They are from Georgia, Idaho, Colorado and Kansas, respectively.
"Trained in Church teaching, prayer, sacred Scripture, evangelization and discipleship, FOCUS missionaries encounter students in friendship where they are, inviting them into a personal relationship with Jesus Christ and accompanying them as they pursue lives of virtue and excellence. Through Bible studies, outreach events, mission trips and one-on-one discipleship, missionaries inspire and build up students in the faith, sending them out to spread the good news and to live out the Great Commission: Go, therefore, and make disciples of all nations (Mt. 28:19)," reads the mission of FOCUS.
"We are very excited to be here at the University of Utah," said Becker, a graduate of Fort Hays State University with a degree in communications and public relations who arrived in Utah at the end of July.
Only a small percentage of Americans who were raised Catholics practice the faith as adults, which surprises Becker, who said she encountered Christ while she was in college.
"This is a very special formative time for young people and this is the time to encounter the Lord so they can be with him for the rest of their lives, whatever vocation they are part of," she said.
Although she was born and raised in a Catholic family, she didn't always practice the faith, she said, but this year on her birthday, which she celebrated just before arriving in Utah, "I prayed a rosary and reflected on all the ways that the Lord has changed me in this past year, which was my first year as a FOCUS missionary," Becker said.
The other students at the Ft. Hays Newman Center changed her heart with their love, she said. "I knew then that I was and will be Catholic; that that was my call. … Seeing my spiritual poverty and the death of the dignity of some women around me, I said 'Lord, make me alive,' and He did," Becker said. She added that she has realized that, to be successful as a missionary, she needs to have a personal relationship with the Lord and trust in him.
"He is the primary agent through the Holy Spirit, and we just get to be his hands and feet here," she said.
Inviting students to the Church's sacraments is a large part of the role of FOCUS missionaries, she said; they also help build upon what the campus ministries are doing to evangelize.
"There are so many opportunities to invite the students to experience the unique and personal love of God our Father every day," she said. "Whether it be Mass, silent prayer and Adoration of the Blessed Sacrament, or going on a hike and serving the community through Corporal Works of Mercy. ... The amazing opportunities to encounter Christ and his Church are limitless!"