Study's results to improve Holy Cross Ministries pre-school program
Friday, Apr. 13, 2018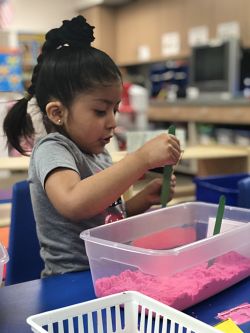 Courtesy photo
+ Enlarge
PARK CITY — A two-year study of children in Holy Cross Ministries' School Readiness Program will be used to identify areas that need improvement, said Leo Nieto, director of Data and IT at Holy Cross Ministries, who oversaw the research project funded by Whitney Foundation.
The School Readiness Program, which serves Summit County, "provides early childhood education and support for children ages 0-3, and their parents … to prepare children academically, socially, emotionally, and physically to enter into the public school system," according to the HCM website. The program is geared toward children from minority families, including immigrants.
The grant from the Whitney Foundation was used "to conduct a longitudinal study of the graduates of Holy Cross Ministries' School Readiness Program," according to the HCM website. The project was conducted in partnership with the University of Utah's Department of Family and Consumer Studies, and Mark Innocenti, a research specialist at Utah State University, the website states. The study examined "the impact of HCM's programs on their current academic success," according to the website.
"We always wanted to do this research, we just didn't have the resources to do it," Nieto said. The Whitney Foundation grant allowed HCM to recruit university students to help conduct interviews with families whose children are in the HCM School Readiness program, as well as families from similar demographic backgrounds whose children are in other pre-school programs and those whose children did not attend pre-school.
The researchers studied the impact the preschool program has on underprivileged communities, including children of migrant families, Nieto said. HCM's program began as a home-visit literacy program and moved into a classroom setting in the 2009-10 school year. Each year the program serves between 20 and 40 children.
"The goal was to better prepare those kids to enter kindergarten" with academic and English skills on par with their peers, Nieto said.
For the study, they gathered data on many of the children who began in the preschool program and now are in grades 3 through 5. The study sought to determine whether these children started kindergarten with academic and English language skills on par with their peers, and whether they sustained those skills as they continued in school.
Researchers also asked questions about challenges that parents face in their children's education. "Our goal was to try to figure out how parent participation works in a family that is socioeconomically disadvantaged but also migrant, with challenges around language, culture and lack of understanding of the U.S. education system," Nieto said.
The data will be used to determine the program's strengths and where it can improve, Nieto said. "The first thing we want to do is to find the right recipe to improve our program. We believe there's an academic aspect that needs to be strengthened with families with children, and there's also a family aspect – how do we work with families better to improve the educational outcome of children."
Once the data is analyzed, he plans to publish it in papers that will detail the benefits of pre-school programs and how they have long-term impact on children, especially those from minority backgrounds, he said.
Changes indicated by the data likely will start to take effect in the 2018-19 school year, he said. "It's a very strong program currently, but we're finding that this study is going to allow us to improve it and make it even better." One area he thinks that needs to be strengthened is English language acquisition at an early age, he said.
Additionally, they want to improve parents' understanding of the value of being involved in their children's education, Nieto said. "That's one of the aspects that we really want to improve upon, because it's one of the things that adds a lot of value to the program."