Being a refugee foster parent is 'a million times more rewarding than you could imagine'
Friday, Apr. 08, 2022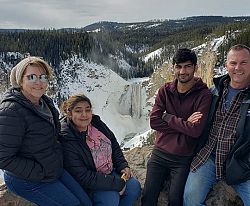 Courtesy pho
+ Enlarge
OGDEN —With her seven children now adults in their 30s and 40s, Lene Balster thought her days of getting up early every day to take kids to school were long behind her. For the past three months, though, she's set the alarm for 6:45 a.m., and gotten out of the house and into the car, heading to the local high school.
Despite her aversion to those early hours, Balster said it's worth it.
Last year, Balster saw an ad by Catholic Community Services of Utah in this newspaper asking for volunteers for the refugee foster parent program. She went through the training and in January welcomed into her home Hosna and Tariq, two 18-year-old Afghan refugees.
"This is my last chance to give back to the world," she said. "I haven't really done anything significant, so I felt like when I saw that ad, 'This is something I have to do.'"
Although it took a little while to get her husband, Luke, warmed up to the idea — he had been enjoying their empty nest — Lene Balster said now he has jumped in with both feet.
"My husband has been a dream," she said. "Especially with him not originally wanting to do this, he just has picked right up, and he's up for anything."
Learning about the teens is "super fun and it's fascinating," she said. "It has just made my vision of the world so much clearer and so much larger than it was before. … I have a really tender heart deep down inside even though on the outside I'm really tough and bossy. I just think about the mothers of refugee children, and I just think that if my children were in that situation and they didn't have a home to go to or someone else to care for them. I hug them just like I hug my kids. I tell them that I love them just like I tell my kids. They call us mom and dad."
Being a foster parent has been eye-opening, she said. "I didn't realize how much time it was going to take. It's surreal. Where before I could get up whenever I wanted and have my coffee and read the newspaper, now I get up at 6:45, shower, make breakfast, drive kids to school."
The Balsters know only a little about the kids they have opened their home and their hearts to. Hosna, whose English is good, has been able to tell them about herself. Tariq doesn't yet have the same language skills, so they don't know much about his circumstances. What they do know is both teenagers have immediate family back in Afghanistan, and both had to leave their native country for their own safety. Hosna and her father were social activists who spoke out against the Taliban. After the Taliban takeover, her father was killed by the invaders, and she was evacuated from the country. After spending three months in Qatar, Hosna came to the United States. The rest of her family remains in hiding in Afghanistan.
Tariq's father had worked with the U.S. military, so after the withdrawal he and his family also became targets for the Taliban.
The transition has been difficult for the teens, who suffer from PTSD due to what they have endured, Balster said. "They miss their families terribly. I don't think they ever imagined that they weren't going to still be living in Afghanistan their whole lives."
Speaking for both teens, Hosna echoed what Balster said, explaining that the most difficult part of her and Tariq's experience has been how much they miss their families.
Still, the Balsters "are such nice people," she said. "They love me so much; they take care of me, and they are all the time thinking of me; it's so important for me."
Hosna and Tariq remain in the U.S. under refugee parolee status, which means they could be sent back to Afghanistan at any time. Still, they choose not to focus on the danger hanging over their heads. They are enrolled in public school, where they are doing well (although Tariq struggles with the language). Both hope to be able to attend college and build lives here. Hosna would like to eventually become a member of Congress, while Tariq hopes to be an engineer.
While Lene Balster never expected to be starting a new family at the age of 62, she wouldn't change the experience, she said. Her faith helps her through the tough times; knowing she and Luke pray to the same God as the kids, who are devout Muslims, binds them together, she said.
"I thought I was so old that I couldn't cry anymore, but I find myself crying all the time —tears of gratitude or compassion – listening to some things that they say," she said.
"Prayer is central to my heart," Balster said. "Even though they are Muslim and I'm Catholic, we're all praying to the same God. Even though their beliefs are so different and foreign to me, I just keep thinking we all have the same God. I just lean on my prayer. When it's really hard, I say a Hail Mary. I just ask God to have mercy on me."
Both Lene and Luke Balster work as Realtors, so their schedules allow them to devote the time needed for the teenagers. Their children and 10 grandchildren "think it's awesome and like the kids and think it's good," Lene Balster said.
Her advice to people considering fostering refugee children is that it's "probably harder than you're imagining, and it's also a million times more rewarding than you could have imagined," she said. "Be open-minded because you don't know what you're going to get. Your experience may be completely different than your expectations."