Four Bulldogs earn military academy appointments
Friday, May. 27, 2022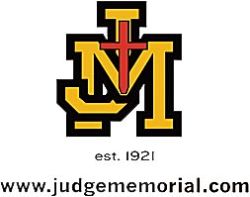 Courtesy photo
+ Enlarge
Derek P. Jensen
SALT LAKE CITY — Growing up in Ogden beneath the ubiquitous blanket of crescendoing jet engines from nearby Hill Air Force Base, Sam Oswald fashioned a boyhood vision of his future.
"Since I was 6 I've wanted to fly," said Oswald, who by the sixth grade decided that he wanted to shoot to be accepted at a military academy. "I'd like to be a career pilot."
He's on his way. Next month, Oswald starts Plebe Summer at the U.S. Naval Academy having chosen Annapolis over the United States Military Academy West Point, where he was also accepted.
Oswald, who graduated from Judge Memorial Catholic High School on May 22, is not the only Bulldog taking that path. In what college counselors call a modern record, a total of four members of the JMCHS Class of 2022 are headed to a military academy this fall. Caeli Sherman will attend the U.S. Air Force Academy, where she signed a letter of intent to play soccer. Classmate Tyler Bissett earned his appointment to the U.S. Coast Guard Academy. And Neve Scolere has been accepted to the Naval Academy, where she will major in Arabic and study Foreign Area Studies.
"This is the most [students] I've ever had go to an academy," said Jeanette Sawaya, JMCHS' college counselor. "We've always had one, maybe two, but never four."
The rigorous application process for any of the military academies can be daunting. They put a premium on leadership ability, volunteer work and character but also require a congressional nomination, reams of paperwork and a physical exam.
"You've kind of got to have the whole package," Sawaya said.
Nevertheless, to borrow from author Tom Wolfe, Judge historically has had "the right stuff."
"Judge has been one of the key resources for students going to the Naval Academy throughout the years," said Mark Peterson, a longtime local Naval Academy recruiter, who notes Bulldogs are always well prepared for the academic rigor and service to follow. "It's always a surprise to me if somebody from Judge isn't going to an academy every year."
Peterson points to Judge alumni who have gone on to be submarine drivers, crew captains and outstanding military officers. Service academy curriculum is on a par with Ivy League schools, he said, except the academies guarantee a job afterward.
"There's a certain magic with the education that people get there," he says. "The young women and young men that graduate are uniquely set up for career success."
Sherman says she always wanted to play Division I soccer at a top academic school, but didn't focus on the Air Force Academy until she learned about its academic reputation. Academy candidates are held to such high standards that it requires a lot of humility, she said.
In the Air Force, Sherman hopes to pursue legal affairs or foreign affairs.
Because the Coast Guard Academy flies a bit below the radar it is "a hidden gem for adventure," said Bissett, who looks forward to sailing the Atlantic.
Bissett plans to major in cybersecurity, and because the Coast Guard is part of the Department of Homeland Security, he will have an array of career options ranging from the FBI and DEA to the CIA, he said.
Oswald is interested in aerospace engineering and foreign area studies with an emphasis on Eastern Asia. He hopes to obtain a commission in aviation with either the U.S. Navy or Marine Corps.
Between hearing stories of his grandfather in World War II who was later a bush pilot in Alaska and hearing the jets at Hill Air Force Base, Oswald's goal to be a pilot was cemented early, he said, but he credits Judge Memorial for making the academy appointment possible. "That's the reason I came to Judge," he says.
Having four students in one year earn appointments to military academies is a great accomplishment "that says a lot about the administration, counselors and teachers about the quality of the education," Peterson said.
While top schools are no strangers to Judge graduates, the four academy appointments grabbed the attention of Principal Patrick Lambert, who noted the accomplishment in his commencement remarks.
"We are so proud of these students for this incredible achievement," Lambert said. "To see four get appointments to military academies in the same year speaks both to our commitment to excellence and to the character and leadership qualities of our students."
Editor's Note: This story has been updated to reflect that Neve Scolere, who had been waitlisted at the Naval Academy, has been accepted and will attend.
Derek P. Jensen is director of communications at Judge Memorial Catholic High School.