Fr. Bednarz celebrates his 40th priestly anniversary
Friday, Jun. 01, 2012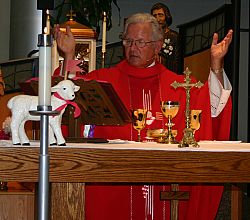 Intermountain Catholic
+ Enlarge
TAYLORSVILLE — Father Jan Bednarz, pastor of Saint Martin de Porres Parish, celebrated the 40th anniversary of his priestly ordination May 27 during a reception at the parish. He was ordained at Saint John the Baptist Cathedral in Wroclaw City, Poland May 27, 1972 on Pentecost Sunday.
"Pentecost is one of the most important days because it is the beginning of our Church when we received the gift of the Holy Spirit," said Fr. Bednarz, who was pleased to be ordained on this special day.
"Fr. Bednarz is very spiritual; he sacrifices himself for others," said Mary Martinez, parish financial director.
"As soon as Father meets you, he respects you and is concerned for your soul," said Katheryn Brown, parish sacristan.
Many parishioners from throughout the diocese attend the Latin Mass that Fr. Bednarz celebrates. "He followed Pope Benedict XVI's call to make it available to people," said parishioner James Snow.
Fr. Bednarz was born the first of six children into a devout Catholic family in Germany, and moved with his family to Poland when he was a year old. "We walked to church every Sunday regardless of the weather," he said.
He attended public schools and was taught the Church's catechism by the parish priest. "I was an altar boy from the time I was 9 until I was 21 and entered the high seminary," he said. "I loved helping the priests and I enjoyed serving, and at that time, the Masses were in Latin. I entered the seminary in 1966 in Wroclaw City, Poland."
Fr. Bednarz was influenced to become a priest by his pastor, Father Franciszek Piszczor, who was very dedicated, he said. "I saw in him a perfect teacher. He loved children and he showed us it is good to serve the Lord and to serve people."
Poland was a Communist country while Fr. Bednarz was growing up there. While in school, he was urged to become a Boy Scout, which trained members to be non-religious because it was a Communist-run organization.
"I saw the truth was only taught in Church," he said. "When I entered the seminary, they expelled my father from his membership in the Communist Party. They considered a priest lazy and unproductive. My father was actually happy and continued to practice his faith. The Catholic Church was a very important part of our lives. We were involved in every feast and celebration."
After Fr. Bednarz was ordained he was assigned to various parishes in Poland, including two years in Bogatynia, Zarow and Gadkowice. Because Fr. Bednarz knew a seminarian classmate in Ontario, Canada, arrangements were made for him to serve the Polish population in that country from 1978 to 1989.
After being diagnosed with rheumatoid arthritis and needing a dryer climate, Fr. Bednarz came to Utah to visit a friend. He made arrangements with Bishop William Weigand and in 1989 he was assigned as pastor of Christ the King Parish in Cedar City. In 1996 he was assigned to Saint James in Vernal and in 2003 he was assigned to Saint Martin de Porres in Taylorsville.
"Being a priest is the most wonderful way to preach the Gospel by word and by example," he said. "It is the most wonderful vocation to take the body of Christ into your hands and give it to the people; to serve the Lord and serve the people."
Fr. Bednarz maintains his prayer life by walking and praying the rosary, celebrating daily Mass and praying in the church every morning, he said. "It gives me so much joy to also visit the sick, to be a spiritual leader and an instrument in God's hands."
Over the years, Fr. Bednarz has witnessed the involvement of more laypeople in the church. "We now have lectors, ministers of Holy Eucharist, ushers and altar girls," he said. "In our seminary, the rector told us the priest is the conductor and the parishioners are the musicians; the priest has to instruct the parishioners."