Funeral Mass for Trappist Fr. Leander Dosch
Friday, Jan. 14, 2022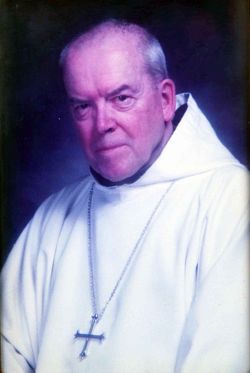 + Enlarge
A Mass of Christian Burial for Father Leander Edward Dosch, OCSO was celebrated Jan. 7 at St. Joseph Villa. The celebrant was Fr. Lourduraj Gally Gregory. Concelebrating were Msgr. Colin Bircumshaw, vicar general; Father Kenneth Vialpando, vicar of clergy; Msgr. Michael Winterer, a retired priest of the diocese; and Father Patrick Boyle, OCSO.
Among those attending were Fr. Leander's niece and her husband, Gwen and Gill Fagnou; Father Casimir Bernas, OCSO; and many friends who received from him the Sacrament of Confession, spiritual guidance and other ministry, as Fr. Gally noted in his homily.
One of Fr. Leander's greatest virtues was faithfulness, Fr. Gally said. "His devotion to his religious life and the family of OCSO through his priesthood, which he cherished so much, was an example from which we all can learn."
Fr. Leander was born Feb. 1, 1925 on a farm near Annaheim, Saskatchewan, Canada, the first of seven children in the family of Henry and Mary (Meyer) Dosch.
In her eulogy, Gwen Fagnou said she had a special connection with her uncle because he was ordained on June 3, 1950, and she was born just a few weeks later. Twenty-one years later, when he returned from missionary work in Brazil, he presided at the marriage of her and her husband.
A few months before he died, she asked him about his vocation to the priesthood, and he sent her a written response, which she read at the funeral Mass. In it, he said he was attracted to the priesthood even as a child. In fourth grade, he memorized the Latin responses to the Mass so that he could be an altar server. After he received the Sacrament of Confirmation, he attended a boarding school at St. Peter's Benedictine Abbey in Muenster, Saskatchewan. After high school, he entered the Benedictine novitiate at the abbey; 12 years later he was sent to St. John's Abbey in Collegeville, Minn.
After he was ordained, he taught for 10 years at St. Peter's College and also assisted with parish work. In 1960 he became chaplain at a girls' academy in Bruno, Saskatchewan. Eight years later he went to Maceio, Brazil with a mission team and worked there for three years. He returned to Canada in 1971 and was assigned as a hospital chaplain in Humbolt, Saskatchewan.
He asked several times to transfer to a Trappist monastery but his abbot refused his requests. Then, in the early 1970s he completed a month-long retreat at Holy Trinity Abbey in Huntsville, Utah [now closed]. Afterward, he again asked his abbot for permission to transfer. This time, his request was granted. In August 1975, at the age of 50, he joined the abbey in Huntsville, where he served as novice master for 10 years. In addition to writing and publishing several monographs, he served as abbot for five years. Then, in his 70s, he became the abbey's archivist. At the age of 90, he moved to St. Joseph Villa in Salt Lake City, where he used a Facebook page to evangelize. He died on Jan. 2, 2022, at the age of 96.