Georgia (Uzelac) Motta
Friday, May. 10, 2019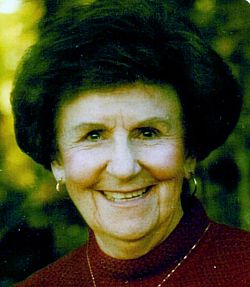 Courtesy photo
+ Enlarge
December 11, 1928 ~ April 29, 2019
Georgia Uzelac Motta, 90, of Layton, passed away April 29, 2019, with her loving family by her side. She was born in Murray, Utah, December 11, 1928, to immigrant parents Joseph George and Helen Mageras Uzelac. She was very proud of her Greek and Yugoslavian heritage.
She married the love of her life, Ambrose "Breeze" Motta, at St. Vincent de Paul Catholic Church in Murray, December 2, 1952, and then became "The Farmer's Wife," a role she dearly loved. Breeze passed away November 13, 2014.
Georgia was a graduate of Murray High School, Class of 1946, where she served as senior class vice president. She moved to Layton in 1968. She was an active member of St. Vincent de Paul Catholic Church in Murray, and later St. Rose of Lima in Layton. She was a member of Riverside Ladies Golf Association in Ogden. Georgia volunteered for over 40 years at St. Benedict's Hospital (later Ogden Regional Medical Center) until the time of her death.
She enjoyed playing bridge and golf and spent many happy times with friends at Lake Powell, St. George and Bear Lake, but her happiest times were spent with Breeze and family in their home for family gatherings and special occasions in keeping with family traditions.
She was preceded in death by her parents; her husband; brothers Louis, Nick and Joe Uzelac; and brothers-in-law Chester Fassio and Dominick Motta. Survived by sons Jeffrey (Vicki) and David (Kristine) Motta and daughter Cheryl (Michael) Morris; grandsons Nicholas (BreeAnn) Motta, Stuart Motta, Matthew Morris, Sam Pacheco; great-grandsons Alex and Anthony Robertson, William Ambrose and Maxwell Jeffrey; granddaughters Megan Morris, Amanda Motta, Gina Robertson; sisters Kay Fassio (Chester), Ellen (Mike) Falvo; and sister-in-law Elma (Nick) Uzelac.
To my children, I thank you for your loving care; I am at peace.
A funeral Mass was celebrated May 3 at Saint Rose of Lima Catholic Church. Interment Murray City Cemetery.
In lieu of flowers, donations in Georgia's name to the St. Rose of Lima Catholic Church, PO Box 557 Layton, Utah, 84041, would be appreciated.