Gifts expand Ogden food pantry
Friday, Nov. 08, 2013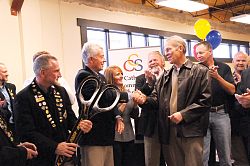 Intermountain Catholic
Photo 1 of 3
OGDEN — Just in time for the holiday season, Catholic Community Services Northern Utah received grants from three organizations to expand the Joyce Hansen Hall Food Bank.
The food bank, the largest in northern Utah, serves 2,300 families each month. Last year, it distributed 2.5 million pounds of food.
Until Nov. 5, food bank clients picked up their food in the warehouse, which made for cold and crowded conditions, not to mention raising safety concerns.
"In the main warehouse we were storing food, sorting food and distributing food, and that's way too much going on in that one little area," said Marcie Valdez, CCS Northern Utah director.
The remodel, made possible by a grant from The ALSAM Foundation, created a food pantry that is separate from the warehouse, installed heating and air conditioning, and increased parking.
Valdez is as excited about the HVAC and parking as she is about the new food pantry.
"We've battled with extreme temperatures in the summer and in the winter, and it was really uncomfortable for our clients and our volunteers," Valdez said. "People would come bundled in coats and scarves and gloves to volunteer in the winter, and in the summer be sweating to death out there, so to have heating and air conditioning in the back rooms where our volunteers work and our clients shop is really a great thing as well."
The 60 added parking spaces ease congestion along the adjacent streets, where food pantry clients had parked before, Valdez said.
Also, "the new space looks like a store. It's beautiful," she said. "It's a bigger space. We'll be able to get more people shopping at one time, so it will alleviate some of the long waits that our clients have had. It's a much cleaner, friendlier, nicer environment – easier for them to make their selections."
In the past, food bank clients could wait two hours or more to go through the food pantry to do their shopping, but the new facility should make the process more efficient, Valdez said.
The new food pantry was created from a remodel of an existing room and garage in the CCS Northern Utah facility.
Providing a grant to CCS Northern Utah for the remodel was a natural extension of the support The ALSAM Foundation has given to CCS in the Salt Lake area, said Ronny Cutshall, The ALSAM Foundation president.
"Catholic Community Services is something that Mr. [Sam] Skaggs was interested in, and he personally funded some projects they had in Salt Lake," said Cutshall, who viewed the food pantry both before the remodel and after.
At the Nov. 4 ribbon cutting for the new food pantry, "seeing the changes that have been made is pretty phenomenal," Cutshall said. "I like the openness of the space. … There's a better flow for the people."
He added that he also was impressed with how the HVAC system and parking will improve conditions for CCS clients.
Making the new space "feel like a real store" was made possible by a grant from America First Credit Union, which provided "real store shelving," Valdez said, while Smith's Food and Drug Centers funded a freezer for the pantry.
CCS' Saint Vincent de Paul dining hall and Saint Therese of the Child Jesus Parish also contributed refrigerators and freezers, which had been used in those food pantries before they closed, Valdez said.
"I'm always just absolutely amazed by what we're able to accomplish at Catholic Community Services because of the support of so many," Valdez said at the Nov. 4 ribbon cutting for the new food pantry.
She has dreamed of having such a food pantry since she began her job five years ago, she said.
Last week, when she announced to the food pantry clients that the new space would open Nov. 5, "people started clapping, and a couple of people said 'thank you,' and it was at that moment that I knew that this was the right thing, and it reminded me how grateful our clients are for the help that they get each and every day," she said.
The new pantry's opening couldn't have been timed better to allow smoother operations in the warehouse during the hectic holiday season. Two semi-trucks from The Church of Jesus Christ of Latter-day Saints were scheduled to deliver goods Nov. 6 for CCS Northern Utah's annual holiday baskets, which will be distributed Nov. 18.
CCS expects an increase in people seeking their help not only during the holiday season, but also because the federal government tightened distribution of food stamps on Nov. 1, so "we're anticipating that families who haven't needed pantry support before might need our help now," Valdez said.