Girl, Boy Scouts and adult leaders are honored
Friday, Feb. 14, 2014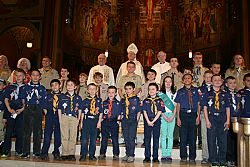 Intermountain Catholic
Photo 1 of 2
SALT LAKE CITY — The Diocesan Committee on Catholic Scouting recognized four adults who have made a significant contribution to the spiritual development of Catholic youth in the Diocese of Salt Lake City during the Scout Saturday awards ceremony at the Cathedral of the Madeleine Feb. 8. Girl and Boy Scouts also received religious emblems for learning to appreciate their faith more deeply and for developing a relationship with God.
The Diocesan Committee on Catholic Scouting members present were Father James Blaine, Diocesan Scout Chaplain and pastor of Saint Peter Parish in American Fork; Deacon Herschel Hester, chairman; Nancy Reading and Louis Schoen.
In his homily, the Most Rev. John C. Wester, Bishop of Salt Lake City, talked to the scouts about having a sense of accomplishment in school, sports, scouting or other areas of their lives.
"You and I accomplish everything we do because of God's grace and the love of parents, teachers, parishioners, brothers, sisters, fellow scouts and school mates who are constantly supporting each other," Bishop Wester said. "With God we can do anything, but without God we can do nothing. His love is constant."
Deacon Hester presented the religious emblems to the scouts.
Caroline Bouley from Saint Olaf Parish and Troop 719 was the only Girl Scout to receive an emblem this year. She received the "I Live My Faith" award, designed to help Girl Scouts appreciate more deeply the place God and religion occupies in their daily lives.
Nathan Mangual from Pack 86 received the "God and Me" emblem. He is a member of Christ Prince of Peace Parish on Hill Air Force Base. The emblem is designed to provide an opportunity for boys and their families to explore their faith together.
Benjamin McCraw from Troop 293 and Kolby Haueter from Troop 360 received the "Ad Altare Dei" award. This award means "to the altar of God," and helps scouts focus on individual spiritual growth by studying the seven sacraments.
Fifteen Boy Scouts received the "Light of Christ" award, designed to help them develop a personal relationship with Jesus.
Twelve Boy Scouts received the "Parvuli Dei" award, which means "children of God." It helps boys explore the presence of God in their daily lives as members of their families and parishes.
In addition, four adult scout leaders received the Bronze Pelican award, a diocesan recognition given to those adults who have made a significant contribution to the spiritual development of Catholic youth in Scouts. Those who received the award were Laura Arcutt, Wendy Burgen, Joe Bouley and Cathy Paiz.
Arcutt has been an adult leader in Pack 1114 at Saint Peter Parish for eight years and has served as den leader, pack chairperson and Tiger leader. She is a member of the Episcopal Church, where she holds many leadership positions.
Burgen has been an adult leader in both Boy and Girl Scouts at Saint Peter Parish. She has served as a Daisy, Junior and Cadette Girl Scout leader, and as a Wolf Cub Scout leader.
She serves as the organizing leader for Girl Scout Troop 1000 and is the financial representative for the Sunrise Community Leadership team.
Paiz is the adult leader in the Cathedral of the Madeleine Girl Scout troops. She helped start Troop 4 four years ago and has seen it grow to 24 girls participating in Daisies, Brownies and Juniors.
Bouley from Saint Olaf Parish has been the treasurer for Pack 4030 for the past three years and will become its Cubmaster for 2014-2015. He has worked closely with his children to ensure they earn their religious emblems. Two of his children received awards during the ceremony.
"I grew up as a scout with my brothers and sisters; my dad was a scout master, and scouting taught us respect and discipline," said Bouley. "It has been our lifestyle my whole life and I want to give my children the same opportunity to make them good citizens. The religious award program is a big part of the Church, so we encourage our children to continue on to the different levels."