Girl Scouts adopt Carmelite Sisters this Christmas
Friday, Dec. 09, 2011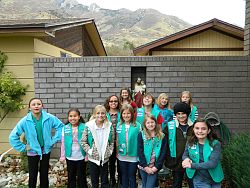 Intermountain Catholic
+ Enlarge
SANDY — In celebration of 100 years of Girl Scouting in the United States, Blessed Sacrament Girl Scout Troop 2272 answered a challenge to either do 100 hours of service or donate 100 items to a worthy cause. Troop 2272 donated more than 100 gifts to the Discalced Carmelite Nuns of the Carmel of the Immaculate Heart of Mary Monastery in Holladay.
"In the spirit of the new year, 2012, we asked our 16 Girl Scouts to bring seven items," said Celeste Diller, troop leader. "It could range from household items such food or cleaning products to personal care items like body lotion and socks. The girls donated a little bit of everything including books, wine, chocolate, crossword puzzles and toys for the dogs."
Most of the scouts, who are 9- to 10-years old, attend Blessed Sacrament School. They visited the Carmelite monastery with their mothers to deliver their gifts, meet the nuns and to see how they live.
"We had a beautiful visit with the Girl Scouts and enjoyed hearing about each of them," said Carmelite Mother Maureen Miller. "We appreciated them coming and would be delighted if they would like to come and visit with us again."
Many of the girls had never been to a monastery before, Diller said. "It was good for them to see a simple way of life. We listened to the nuns' stories and the girls sang songs. They asked the nuns questions and then the nuns asked the girls questions."
The girls were surprised to learn several things about the nuns; for example that they wore pajamas, have pet dogs and pray the rosary daily.
Alexis Dooley said she thought the monastery was huge and thought it was nice the nuns gave their lives to God. "It made me feel closer to Jesus," she said. "I asked them what they do and one of the nuns said she likes making the [Communion] hosts. I thought they were made in a factory."
Kaila Bunting was inspired to become a nun after her visit. "My dad died of cancer this summer and I want to thank God for keeping my dad alive for three years," she said. "I asked the nuns to pray for my dad because I miss him and it's only been about six months since he passed."
Aspen Russell was also inspired to become a nun after her visit. "I didn't realize they could go outside if they wanted to," she said. "I also thought it was interesting they do house hold chores. There are actually people who know them and tell them their intentions and ask for prayers. They are serious, but they laugh a lot."
Kendall Neuman thought it was kind of weird the nuns were behind bars. "But it was nice they would talk to us," she said. "They asked us what we do and I told them we go to places to learn things and earn badges, and this year we are honoring 100 years of service and remembering the great women who have done the same as us."
The nuns were interested in what the Girl Scouts do. Sydney Hurst told them they do service projects and have adopted a foster child this year for Christmas.
The nuns all wrote thank you cards to the Girl Scouts, which they shared at their last meeting. "We had so much fun and were so excited to open each bag," said Mother Maureen, adding even the dogs had their share.