Heading into retirement, Fr. Sandoval reflects on priesthood
Friday, Jul. 29, 2022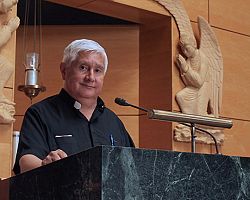 Courtesy photo
+ Enlarge
By Kevin Cummings
Special to the Intermountain Catholic
LAYTON — By the time he entered the seminary, Clarence J. Sandoval had already served in the Army during the Vietnam War, earned degrees in education and psychology, and spent time in Lesotho, Africa with the Peace Corps. Those varied experiences served him well in his years of ordained ministry. As he transitions to retirement, he took a moment to reflect on his many wonderful experiences.
"Most of my class at the seminary was older," he says. "We had lives outside of ministry. We had a different outlook. All my life experiences came together when I was ordained."
After his ordination as a priest for the Diocese of Salt Lake City on August 21, 1987, he served at Notre Dame Parish in Price for two years before becoming pastor at St. Elizabeth Parish in Richfield.
"You always remember your firsts," he says. "Like being at St. Elizabeth's, serving a parish, two missions and a prison."
During that time, he felt isolated, but found comfort in a network of priests called Jesus Caritas. "Their support and sense of collegiality was profound," he said.
He vividly recalls presiding at an outdoor Mass at Capitol Reef and seeing deer – God's creation – walking past the assembled congregation of park visitors.
While at St. Elizabeth's he raised funds to build churches in Torrey, Ephraim and Richfield. He also connected with the Spanish-speaking community and became a voice for those who were denied their rights. Workers injured in local jobs were being referred to company doctors who sent them back to work. Fr. Clarence arranged for the workers to see doctors in Provo who ensured the workers got the workers' compensation they deserved.
In 1993 he was assigned to St. Thomas Aquinas Parish in Logan.
"I love Cache Valley," he said. "I had completed both of my degrees at Utah State University."
In Logan, is life and prior ministry served him well. He was tasked with building the new church, and the parish was 65 percent Spanish-speaking, so he was able to reach out to that community. Under his guidance, the parish grew rapidly.
At the end of his 16 years with the parish in Logan, he fulfilled a life goal and took a sabbatical to the Holy Land. "I wanted to see, touch and smell where Jesus was. Now when I read Scripture, I think, 'I've been there,'" he said.
Leaving St. Thomas, he had his choice of any parish. He selected St. Rose of Lima Parish in Layton because the architecture appealed to him. The new assignment was tough at first because the community was used to a certain way of doing things, but Fr. Clarence persisted and the parish became a family to him, he said.
He had hoped to serve the St. Rose community for several more years, but his health took a turn. Doctors determined that his kidneys are declining and he will need a transplant. He is hoping God will provide a donor. In the meantime, he is retiring from his administrative role. His retirement is effective Aug. 3.
"I will continue to care for the people," he said. "Ministry is part of who I am, and I'll do it for the rest of my life."
Kevin Cummings is a St. Rose of Lima parishioner.