Helping with hurricane disaster relief in Houston
Friday, Oct. 06, 2017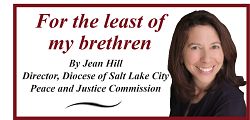 + Enlarge
Last week, I traveled to Houston for what was the most unique and purposeful conference I have been blessed to attend.
As with all annual conferences, Catholic Charities USA (of which Catholic Community Services of Utah is an affiliate) planned its gathering months before anyone had reason to suspect a hurricane with the wrath of Harvey would hit the area. In the week following the hurricane, it wasn't clear whether the conference would happen at all. But then came word from the several Catholic Charities within Harvey's path urging attendees to come and be part of the rebuilding process.
I am very glad we did. Not only would cancellation of a 600-700 person conference cause additional economic harm to the employees of the hotel and businesses we frequented, but we were able to participate in the ongoing recovery activities that continue weeks after first responders such as the Red Cross have left the area.
The conference was a learning experience for someone from a state with few natural disasters, but that tends to respond to calls for help from others. What I learned from Houston and the Catholic Charities in states where hurricanes, tornadoes, and other natural disasters are recurring experiences is highly relevant to our local responses to people in need elsewhere.
In simplest form, the lesson is "pray, stay, and pay." As a Catholic Charities director from Oklahoma described it, people need our prayers after tragedy strikes, but they do not necessarily need us, or our stuff, to inundate them in the days after the disaster. Rather, they need us to stay home and wait for local agencies, government and non-profit, to let us know what is needed and when. They also need our immediate monetary contributions far more than our used clothing, blankets and leftover canned goods.
Those who work in Texas, Louisiana and Oklahoma in particular told many stories of generous souls who began clothing or blanket drives in states far from the disasters. While the thoughts of those behind the drives were appreciated, many times agencies received far more than they could use, or store. Houston, for example, had no issues with drinking water safety, but Catholic Charities in the area now has pallets and pallets of bottled water to store somewhere, or use their resources to ship elsewhere.
I learned something about this as we unloaded, sorted and resorted truckloads of donations from other areas of Texas to Houston. We divided donations into individual boxes to deliver to residents in Beaumont and other hard-hit neighborhoods. The items were mostly usable, but the food boxes we filled tended to be heavy on cookies, chips and crackers, with little of real nutritional value. I also learned that a whole box of donated supplies could be ruined by, for example, one half-used, leaking bottle of bleach or cleaning fluid. When you donate liquid, make sure it is unopened!
Some of our conference attendees also participated in the canvassing efforts by the Catholic Charities agencies in Texas.. These volunteers went door to door, checking on residents to see what they lacked, and providing for these needs through the cash donations the agencies received. Cash may seem a cold donation, but it provides flexibility agencies require to respond to the many different situations on the ground – such as a resident trying to get a prescription medication, needing fresh food, or unable to afford transportation and alternative shelter out of a dangerous housing situation.
Rest assured, Utah donor, cash contributions to Catholic Charities USA are put to good, and ongoing, use. As I witnessed, Catholic agencies are not always equipped to be the first responders in disaster, but we are the last to leave. The needs in Texas are still many, and our donations to Catholic Charities USA for recovery efforts in Texas, Louisiana, and Puerto Rico and to Catholic Relief Services for Mexico and non-US territories in the Caribbean, are most certainly used to protect the dignity and sanctity of life in areas struck by natural calamities.
Jean Hill is director of the Diocese of Salt Lake City's Peace & Justice Commission.
The Catholic Church is Responding in Your Name
Earthquakes in Mexico
On Sept. 19, a 7.1-magnitude earthquake struck south of Mexico City, killing at least 324 people. The quake struck less than two weeks after an 8.1 earthquake hit Oaxaca, Mexico, killing dozens of people and damaging thousands of homes.
Catholic Relief Services is providing relief to affected populations of both earthquakes with immediate needs, including shelter, water and food as well as long-term recovery support.
Please note: CRS is unable to accept in-kind donations for our response in Mexico. Financial contributions will be used for relief and reconstruction and will help us respond most effectively to this tragedy.
To give online, visit crs.org/mexicoquake
Hurricane Maria in Puerto Rico/Caribbean
Hurricane Maria caused widespread devastation throughout the Caribbean and has left millions of people in Puerto Rico without power and water.
Catholic Charities USA continues to work with Catholic Charities, St. Thomas (Virgin Islands) and Caritas de Puerto Rico (San Juan) with immediate relief and long-term recovery, while CRS and its partners provide relief to those affected in Cuba, Dominican Republic and the Antilles.
To give online, visit app.mobilecause.com/vf/CCUSADISASTER
For Dioceses and Parishes
The USCCB has set up funds for both disasters to receive any contributions that dioceses and parishes wish to make. Contributions will be used to support the reconstruction and pastoral needs of the Church as well as humanitarian and recovery assistance through Catholic Charities USA (Hurricane Maria) and Catholic Relief Services (Mexico earthquakes). For information about how your parish can contribute to these funds, call 202-541-3346 or visitusccb.org/nationalcollections.