HHS mandate threatens religious freedom
Friday, Feb. 10, 2012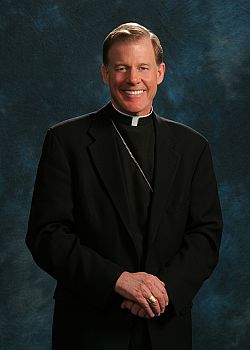 Intermountain Catholic
+ Enlarge
As explained in last week's Intermountain Catholic, the United States Department of Health and Human Services decided last year to mandate prescription contraception coverage for all employers, with an extremely limited exemption for houses of worship. Ever since, the U.S. Conference of Catholic Bishops, dioceses around the country, and other Catholic entities have been working diligently to change it.
My primary concern is the utter disregard the rule shows for long-established protections for religious freedom. The idea that people should be free from government coercion that contradicts their conscience or beliefs is well established. Rights of conscience have been referenced since the days of James Madison and Thomas Jefferson, and upheld by the U.S. Supreme Court in numerous cases. In order to violate those rights, government needs a compelling interest. HHS has yet to provide a compelling reason for its decision to force Catholic employers to violate our core beliefs in the sanctity and dignity of life.
This is why the USCCB and other Catholic entities have been actively engaged in the rulemaking process. When the contraception mandate was first proposed last August, the USCCB initiated a grassroots campaign to encourage public comments on the rule. By the close of the comment period, 57,000 comments had been submitted to HHS, including comments from the Catholic Diocese of Salt Lake City.
Since the final decision to mandate the rule, which gives religious organizations one year to comply, the USCCB and other concerned Catholic entities have engaged in many different acts of advocacy to encourage a change in the rule, or legislation to protect their constitutional right of freedom of conscience.
Here at home, this is not the first time we have discussed religious freedom. Interestingly, we invited Cardinal Francis George, OMI, Archbishop of Chicago, to discuss the topic at Brigham Young University two years ago. The speech resonated across religions, as does concern regarding the HHS mandate. More recently, we issued a Prayer and Action Network bulletin to alert Catholics in Utah to the HHS ruling, and to urge them to contact their elected officials, asking them to support legislation reinstating a more complete religious exemption.
Many of us bishops are in the process of issuing letters to our people regarding the need for action to protect religious liberties. This coming weekend, I, too, will issue a letter explaining my concerns in greater detail, and urging your support on behalf of our shared desire to protect our rights to live our faith free from unnecessary government coercion. You should receive the letter in your parish bulletin, and will find it reprinted next week in the Intermountain Catholic as well.