Holy Cross Ministries gala raises funds, awareness
Friday, Sep. 08, 2017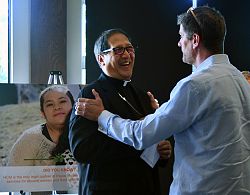 IC photo/Marie Mischel
+ Enlarge
KAMAS — Every year, Holy Cross Ministries helps 4,000 people in Summit County and the greater Salt Lake area who "are tackling some major barriers day in and day out," said Maria Farrington, the organization's executive director. However, "a lot of times, folks don't know that."
To get the word out about Holy Cross Ministries' programs in Summit County, the organization held its annual Autumn Harvest Benefit on Aug. 26 at the Dejoria Center in Kamas. Bishop Oscar A. Solis was the keynote speaker at the sold-out event.
Since the beginning of his pontificate, Pope Francis has advocated for the poor, for immigrants and against indifference to the poor and suffering, said Bishop Solis, who commended those present at the dinner for "carrying on the work of the Church, especially its outreach to the poor."
"Holy Cross Ministries is one of the arms of the Church that answers the call and the challenge of our Holy Father to attend to the needs of those people who are suffering and in need of compassion and care," Bishop Solis said.
He also offered thanks for their generosity and acts of charity, and for providing an antidote of Christian charity, of compassion and mercy "to the global insensitivity and indifference that the world manifests."
The first two members of the Congregation of the Holy Cross came to Utah in 1875; within 90 days they opened a hospital and a school. In 1994, Holy Cross Ministries was formed as a nonprofit from the sale of Holy Cross Hospital. Today, Holy Cross Ministries offers health care, legal services and education services to low-income and marginalized families regardless of gender, race or religion.
"What the sisters of the Holy Cross did is to lay the foundation in this very community for Holy Cross to continue to seek out the gaps in the system and identify people who are falling through the cracks because of one barrier or another. … Today Holy Cross continues in that same vein, in that same tradition and with that same vision," Farrington said at the dinner. "We're still around and the Spirit is still with us and the vision is still clear."
All of the funds raised at the dinner were earmarked for programs in Summit County, Farrington said. In Park City, Holy Cross Ministries partners with organizations such as Peace House, the Christian Center, and the Park City School to offer legal help for victims of domestic violence and after-school programs for children through fifth grade, among other programs.
A video shown during the Autumn Harvest Benefit offered vignettes of some of those who have been helped by Holy Cross Ministries. For example, one mother said her youngest son, through the Parents as Teachers program, is more advanced academically than his older siblings were at his age. Another mother said she could see the progress her children have made in reading and writing, and another woman said she couldn't imagine how difficult it would be for some families if the Holy Cross Ministries programs weren't available.