Holy Cross Ministries gear up for Mother's Day
Friday, Apr. 20, 2012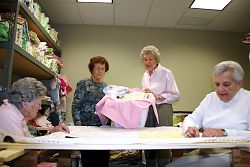 Intermountain Catholic
+ Enlarge
SALT LAKE CITY — Holy Cross Ministries is making a spring appeal for Mother's Day to assist Saint Martha's Baby Project in preparing layettes for expectant mothers living in poverty.
"This Mother's Day we're asking for help from the Diocese of Salt Lake City to sponsor an expectant mother through her education classes and to make sure she has the much needed baby supplies," said Holy Cross Sister Suzanne Brennan, Holy Cross Ministries director.
If they wish, people can make a donation in their own mother's name, and Holy Cross Ministries will send the mothers a personalized thank-you card, Sr. Suzanne said.
"The first step in being a great mom is knowing her baby is happy and healthy, and unfortunately, many low-income mothers face unique challenges in receiving prenatal care, including the lack of education and access to affordable services and baby supplies," said Sr. Suzanne. "Holy Cross Ministries has teamed with St. Martha's Baby Project to give moms the tools they need to raise healthy babies.
Holy Cross Ministries offers prenatal classes that cover 38 topics such as health, diet, check-ups and how to care for newborns; the most frequently attended classes are prenatal, care of newborns, nutrition during pregnancy, early literacy and domestic violence, Sr. Suzanne said. Most of the women who attend the classes are Hispanic. The classes are bilingual and taught by 'promotoras,' who have received special training in the subjects.
"The layettes are an incentive for the expectant mothers to attend eight required prenatal classes," Sr. Suzanne said. "The women also meet with promotoras individually to get help finding doctors, signing up for insurance and accessing food banks."
The classes are taught at various places: the South Main Clinic in Salt Lake City, The People's Health Clinic in Park City, Saint Therese of the Child Jesus Parish in Midvale and in Wendover.
"The promotoras have taught 2,544 classes through these clinics," Sr. Suzanne said.
The women find the classes beneficial. "Once they start going, they want to take more classes," said Eileene Lavallee, St. Martha's Baby Project president of 11 years. "The need for the layettes is great. Last year we donated 409 layettes and so far this year we have donated 65."
The layettes the volunteers put together are valued at $275. They contain handmade baby quilts, blankets, caps, booties, baby clothes, bibs and hand-made stuffed animals. Also in the layettes are diapers, bottles, baby shampoo and conditioner, rattles, baby books, a diaper bag, baby wipes and a mother's bag full of toiletry items.
St. Martha's Baby Project started in 1986 at Saint Vincent de Paul Parish in Salt Lake City under Corinne Powers and the Women's Guild, said Lavallee. "Corinne wanted to reinforce the Right-to-Life movement in a positive way," she said. "In 1987, they prepared 16 layettes and by 1999, there was a need for 300."
As the need for layettes increased, St. Martha's used one of Catholic Community Services' rooms while they were located at 2570 West 1700 South in Salt Lake City. When CCS moved to its new location, Holy Cross Ministries stepped in to provide space in their location at 860 East 4500 South, Salt Lake City.
"What these women do is a wonderful way to deal with the pro-life issue in a non-violent way," said Sr. Suzanne.
"The number of layettes needed continues to rise each year," Lavallee said. "So we count on about 25 volunteers to keep the program running. We operate with the help of grants, donations, parish baby showers and service projects from two Church of Jesus Christ of Latter-day Saint wards."
To make donations or become a volunteer, call 801-943-9605.