Holy Cross Ministries will host its Autumn Harvest Benefit online
Friday, Aug. 28, 2020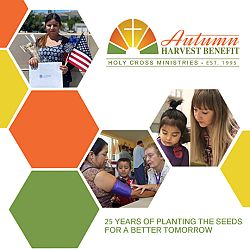 Courtesy graphic
+ Enlarge
SALT LAKE CITY – This year, due to the pandemic, Holy Cross Ministries will hold its annual fundraiser virtually, like many other nonprofit organizations across the country and the world.
HCM's Autumn Harvest Benefit raises funds for the organization's programs in Summit County. These include legal assistance, counseling for victims of crime and domestic violence survivors, health services and a school readiness preschool program. HCM currently serves about 500 clients in the Park City area.
Previously, the benefit was held on one night at High West Distillery in Wanship. However, this year the benefit will run on the organization's social media platforms, website and email Sept. 7-18. During those two weeks, Holy Cross Ministries will spotlight individuals and programs that have shaped the organization and sustained its mission. Daily postings will include photos and stories about HCM's past, staff interviews, client stories from over the years and video compilations celebrating the organization's 25 years in Utah.
Originally, organizers had planned a celebratory Legacy dinner this spring, but due to pandemic conditions they instead hosted the online Legacy Awards, which exceeded their fundraising goal.
"We were really impressed to see the community step up and recognize the increased needs at this time, said Lauren Fields, HCM's communications specialist. "We're optimistic that a similar kind of outcome will happen for this event."
The goal for the Autumn Harvest Benefit is $80,000. Individuals or organizations interested in sponsoring the event may contact Development Manager Maria Mullahi at 385-257-2385 or mmullahi@hcmutah.org.
"Since we are not able to meet and fundraise in person this year, sponsorships provide opportunities to honor our legacy and work over the past 25 years, and play a key role in helping us sustain our programs during these challenging times," Fields said.
Holy Cross Ministries works hard to be an advocate for many immigrants who "live and work and pray in Summit and Wasatch counties," CEO Emmie Gardner said. "The HCM Autumn Harvest Benefit is our annual opportunity to ask the community to support our counseling, health outreach, early childhood education and legal services. These services are even more critical this year given the toll the pandemic has had on our Latinx community."
For information on the Autumn Harvest Benefit or to donate online, visit Hcmutah.orgahb-2020. For mail in donations, make checks payable to Holy Cross Ministries and mail to 860 East 4500 South, Suite 204, Salt Lake City, UT 84107.
This fall Holy Cross Ministries is also launching a new pledge program, the Legacy Sustainer Pledge Program. More information may be found on the organization's website, hcmutah.org.