Homeless resource center holds open house
Friday, Sep. 13, 2019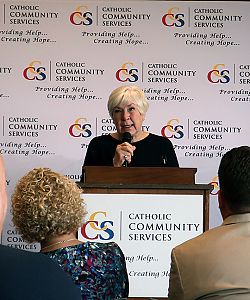 IC photo/Linda Petersen
+ Enlarge
SALT LAKE CITY — On Friday, Oct. 6, the Gail Miller Resource Center for the homeless held an open house to show off the facility to dignitaries and the general public. The resource center will be operated by Catholic Community Services of Utah under an agreement with the state.
The 3-acre, 62,691-square-foot facility will serve up to 200 homeless men and women. There will be separate sleeping quarters for up to 160 men and 40 women. On-site support services will include three meals a day, medical care, employment services, peer support programs, life skills classes, mail services, transportation assistance and personal storage space.
During the open house, officials from CCS and Shelter the Homeless, the nonprofit corporation that owns the center, welcomed visitors to the brand new facility at 242 W. Paramount Ave. in Salt Lake City.
The center is "going to be a wonderful thing in the lives of many, many people who need the help of this community in getting back on their feet," said Harris Simmons, Shelter the Homeless board chairman.
Matt Melville, Catholic Community Services director of homeless services, told those in attendance that the process to develop three smaller resource centers to replace The Road Home in Salt Lake City began more than five years ago in an attempt to better serve the homeless.
"It has not been easy, but we did it because it was the right thing to do," he said. "This is a very beautiful building, built for healing and helping those in need. This building, however, is not a destination; this is a place to connect people to vital services and get them into housing quickly and sustainably."
Gail Miller, for whom the center was named, thanked those who had made it happen.
"You fortify the hope that I've always had that this will be a bright light in this community and for the residents that will live here, work here and recover here and move on to new housing," she said "… This is more than a building; it's not only beautiful but it's designed with the idea that it will radiate light and provide hope for brothers and sisters experiencing their most difficult days. … When this facility opens next week those who reside here will receive the services, expertise, the compassion and the encouragement they need to help them get back on their feet."
While this is the first time Catholic Community Services of Utah has taken over operation of a resource center, it makes sense to do so, Melville told the Intermountain Catholic later.
"It's a part of the Catholic tradition – really helping those in need, and this fits our model," he said. "We've been doing it downtown for decades, and this is a new opportunity where we can build upon what we've already been doing. We think we can offer a great service using those Catholic principles for the people who are going to be using the resource center."
Although state funding will cover the basic operation of the center, there is still a great need for volunteers and for donations, Melville said. Volunteers will be needed to serve meals to residents at the Gail Miller Center and to provide life skills classes or work in the donations room or laundry.
"The more charitable private donations we can get, the more case managers we can afford," Melville said. That funding would also be used to help provide security on the premises.
Those interested in volunteering or donating can find more information at ccsutah.org.
Monsignor Colin F. Bircumshaw, vicar general of the Diocese of Salt Lake City and a CCS board member, expressed appreciation for the resource center and cautious optimism about its future. "They've employed us (CCS) because of our expertise and our experience to run it," he said. "I just hope and pray that the state is able to continue to fund it. That's our fear."
Clients being served by The Road Home are expected to transition over to the Gail Miller Resource Center in the next couple of weeks.
Another of the three new homeless resource centers being opened by Shelter the Homeless is the Geraldine E. King Women's Resource Center at 131 East 700 South in Salt Lake City, which had its ribbon cutting and open house June 22 and began transitioning clients from The Road Home Aug. 13. It is operated by Volunteers of America and provides services for up to 200 women.
A third center at 3380 South 1000 West in South Salt Lake, currently unnamed and under construction, will serve up to 300 men. It is expected to open in November and will be run by The Road Home.
CCS will provide the meals for all three new centers.
Once all three smaller centers are operational, The Road Home, which has been housed in a former warehouse near the Rio Grande Depot, will close. Construction of the three shelters is expected to cost $60 million, $20 million of which has been provided by the state.