Homeschool children learn the Catholic faith
Friday, Jan. 27, 2012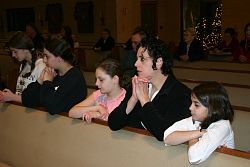 Intermountain Catholic
+ Enlarge
OGDEN — Homeschooling is an alternative way families in the Diocese of Salt Lake City can give their children a Catholic education.
Among those who homeschool is Robin Callon, who has six children, one of whom graduated from Weber State University in 2010. Callon decided to homeschool 20 years ago to improve her children's educational opportunities.
"I felt like, as their mother, I could choose what I thought was educationally best for them," said Callon, a member of Saint James the Just Parish in Ogden. "My thoughts have changed over the years to also include making sure we have a good relationship. If children are home during the day, it's forced time to have a relationship because there is a lot of discussion in the Mother of Divine Grace curriculum we use. My kids trust me and my advice and they tell me what is going on in their lives."
Donna Masek, a St. Mary parishioner in Ogden, started homeschooling her six children 14 years ago after becoming familiar with homeschooling while living in California. "I was most attracted by their family unity and their love of the faith," said Masek, who now has one son in college and another who has graduated from college.
Clare Davis agrees that homeschooling allows family time.
"Homeschooling allows time for catechism," said Davis, also a member of St. James Parish. "We can read history that hasn't been rewritten to be politically correct and shows the role of the Church in the development of the world and our country."
Davis homeschools four of her six children. "I find that I approach each kid differently each year," she said. "My three youngest kids also attend a Montessori school and my oldest son attends a Catholic boys' boarding school in Pennsylvania."
Davis began homeschooling nine years ago when her oldest child was in the first grade in a public school.
"It was then I realized that God had been banished from the public schools," she said. "I thought 'How can they teach my children the truth when they've abolished the truth?'"
The families appreciate the support they receive from St. James the Just Parish and its pastor, Father Erik Richtsteig, because "homeschooling can be hard physically and emotionally," Davis said. "We don't fit in with what's going on around us, so it's nice to feel like everyone doesn't think we're off track."
"I've had a very positive experience with homeschooling," said Fr. Richtsteig. "The families are a real asset to the parish. Monsignor Lawrence Sweeney started hearing confessions for the homeschoolers on first Fridays, and when he retired, I continued. It also gives the kids a chance to play in the gym and socialize."
Msgr. Sweeney was pastor of Holy Family Parish in Ogden from 1982 to 2004.
Michelle Simon, from Saint Jude Maronite Parish in Murray, began homeschooling her four daughters nine years ago upon her husband's recommendation. "I was getting my teaching certificate from Westminster when I got married," she said. "After we started having children, I met some families at St. James Parish who were homeschooling. I read the methodology and I felt called by God to do it."
Simon also uses the Mother of Divine Grace curriculum and said the methodology teaches the children the beauty of the Catholic faith and to know, love and to serve God. "We go to Mass at least three times a week and incorporate our faith into all aspects of our life."
The home-school families meet on first Fridays for Mass and also celebrate feast days together. "We put on a live Stations of the Cross for Holy Week and had a St. Nicholas party. We also performed "The Wizard of Oz" and "Peter Pan" at St. James," said Simon.
The children who are homeschooled also appreciate not being in a regular classroom.
Sarah Masek, 15, said she likes homeschooling because she is free to be herself and can excel in what she wants.
Teressa Simon, 14, likes being able to fit everything into her schedule without homework. "If I need help and my mother isn't available, my sisters can help me. I'm able to concentrate without being in a noisy classroom, and if I finish early, I can have time for art," she said.
Serina Simon, 12, said she likes to get up early to get her school work done so she has time for piano and dance.