Hope Benefit to honor founding officers, St. Joseph Villa volunteers
Friday, Mar. 29, 2019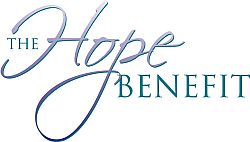 Courtesy photo
Photo 1 of 2
SALT LAKE CITY —The Hope Benefit for the Senior Charity Care Foundation (formerly known as the St. Joseph Villa Foundation for Charity Care) will be held Tuesday, April 30 at the I. J. Wagner and Jeanné Wagner Jewish Community Center. The Friends of the Senior Charity Care Foundation hopes to raise $75,000 this year from this event.
At the Hope Benefit, the foundation will honor its first president, Ginger Moulton, with the Legacy of Hope Award. The organization's first treasurer and secretary, Jeri Wiens, will receive the Legacy Cornerstone Award. The St. Joseph Villa Volunteers, an organization that disbanded in December after 59 years of serving the residents at the Villa, will receive the Legacy of Caring Award.
"They all worked together to help serve the residents of St. Joseph Villa and improve their quality of life," foundation director Beth Ehrhardt said.
Also being honored that evening with the 2019 Continuum of Caring Award is Larry H. and Gail Miller Family Philanthropies for its generous support of the foundation. Thanks to a donation from that organization, in 2017 the SCCF was able to purchase a van and begin its own internal mobile dental clinic program.
Guests at the Hope Benefit will enjoy hors d'oeuvres and beverage service and can bid on silent auction items. The program, awards and a live auction will follow. There will also be an opportunity drawing for a diamond ring donated by the St. Joseph Villa Volunteers, and an eternal family sculpture. The evening will wrap up with "Fund a Need," where guests can choose to donate a set amount to fund a specific service.
Up to $24,500 of the donations received that evening will be matched by the Ehrhardt Legacy Match and SCCF's board of directors challenge match.
The Ehrhardt Legacy Match was established by Beth Ehrhardt and her husband, Dan.
The foundation is also happy to accept donations for the challenge match from those unable to attend the benefit.
"I feel it is important for the seniors that we serve that they receive the care and dignity that they deserve," Ehrhardt said of her choice to personally donate $50,000 to the foundation. "We're called to serve the poor, the widows – that's just part of Christian belief, that someone has to do this."
Those who attend the benefit may also wish to bring new or gently used shoes of any size for the organization's shoe drive. For every five pairs of shoes they bring to the benefit or to SCCF's offices at 1555 West 2200 South, Salt Lake City between April 1 and 29, they will receive a ticket to the opportunity drawing.
The St. Joseph Villa Foundation for Charity Care was founded in 2011 after the Sisters of Charity of the Incarnate Word sold St. Joseph Villa to the Ensign Group, a for-profit health care company.
The foundation was formed "to support the work that the sisters had done and carry it further," Ehrhardt said. It was renamed the Senior Charity Care Foundation two years later.
The organization serves seniors in senior apartments, assisted living and long-term care facilities in Davis, Salt Lake, Summit, Tooele, Utah, Wasatch and Weber counties. Last year, SCCF provided assistance to 806 seniors in those areas.
The foundation provides dental, hearing and vision services for seniors who otherwise could not afford these services.
The need is great, Ehrhardt said.
"The seniors that we serve are not a faceless group who didn't take care of their finances; they're a hard-working group of people who fell on hard times, who had a health issue that maybe took all their savings," she said. "They're our parents, our grandparents; they are people that deserve the dignity and respect, people that served our country from the Greatest Generation. We just ask that people would consider opening their hearts in support of this cause."
WHAT: The Hope Benefit
WHEN: Tuesday, April 30, beginning at 5:30 p.m. with silent auction; program starts at 7 p.m.
WHERE: I. J. Wagner and Jeanné Wagner Jewish Community Center, 2 N. Medical Drive, Salt Lake City
COST: $100 p/p
Visit seniorcharitycarefoundation.org for tickets or call Beth Ehrhardt at 801-698-1296. Reservations must be received by April 22.