Huntsville abbey has been sold
Friday, Oct. 30, 2015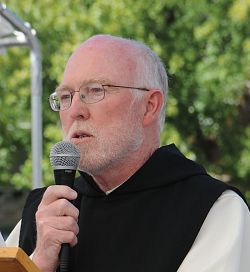 Intermountain Catholic
Photo 1 of 2
By Fr. Brendan Freeman
There are 17 Trappist monasteries in the United States, five for women and 12 for men. Right after the Second World War there were only three for men and one for women. Veterans began filling the men's monasteries and none more than Gethsemani Abbey in Kentucky. In the space of 10 years, between 1944 and 1954, they founded no less than five new monasteries from California to New York.
Among the five was Our Lady of the Holy Trinity Abbey, established in Huntsville, Utah in 1947. The founding monks lived in barracks that had been constructed for German war prisoners; the Quonset huts were moved to the property until a provisional monastery could be built. From the initial 32 monks sent from Kentucky, the community grew to over 80.
In the middle to late 1960s many of our monasteries began to decline in numbers. New Melleray Abbey in Iowa, for example, went from 150 monks in 1965 to 33 monks presently. Like other monasteries, Holy Trinity began a similar decline. In Utah there were very few persevering vocations and the age of the monks increased. This combination of few vocations and an aging population is not unique to Holy Trinity. It is characteristic of Catholic Religious life in Europe and North America. Two things Religious cannot control: aging and new vocations. Vocations are a gift from God, and a gift cannot be coerced.
The monks of Holy Trinity Abbey now number 10, with an average age of 85. How do we prepare for an unknown future? We have to be realistic and prepare for all eventualities, including the closing of the monastery. When will this happen? Perhaps when the last monk dies. We are now making remote preparations for that day.
A significant step was taken on Oct. 20, when the community voted to sell the property. This was a difficult decision and it was made only after a year and a half of deliberation and prayer. With the help of the Diocese of Salt Lake City and others we pondered on what kind of legacy we wanted to leave to Catholics of the area, as well as the Ogden Valley community and the many friends and retreatants of the monastery.
There has been an outpouring of love for the monks and disappointment at losing one of the valuable institutions of Utah. People of all faiths have visited here and found it a sacred place, a place filled with peace, a place to meet God in silence.
It is important to us that the sacredness of this place be preserved. Human beings pass on, but the land stays. We believe our legacy is to preserve the land for agriculture and conservation, with as little development as possible. The graduate students of Utah State University's Department of Landscape Architecture and Environmental Studies spent a whole semester working with us and helped us formulate a plan for our property that reflects the values of our monastic life.
We were blessed to find a buyer who shares our vision and is willing to make a financial sacrifice to keep the land intact. Together we agreed to keep 93 percent of the land in agriculture and green space, with a few acres as our legacy to the diocese. Only 7 percent of the property will be used for development, and that for affordable family-style homes. So 93 percent of the land will be under a perpetual easement that forbids commercial development of any kind.
The monks and the buyer are sacrificing a large financial profit by not developing the land in an area that is predicted to be densely populated in the future. But, to our mind, the beauty of this place cannot be bought and sold. Beauty is an attribute of God, which is reflected in people as well as in nature. There are few places as serenely beautiful as the property surrounding the monastery. The fact that monks have lived and prayed here and tended the soil for 68 years has left its mark on the land.
It is our fond hope that future generations will experience not only the beauty of this place but also discern the presence of God, the source of all beauty. There is indeed a presence of the Holy in the hills and valleys, the sky and mountains sitting so majestically right before our eyes in this Ogden Valley. May it always be so.
(Trappist Father Brendan Freeman is the Superior of Our Lady of the Holy Trinity Abbey.)