Immigration conference
Friday, Jan. 20, 2012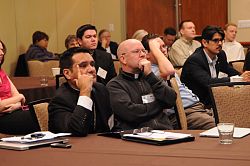 Intermountain Catholic

Photo 1 of 2

SALT LAKE CITY — Two hundred thirty immigration advocates from 43 states gathered in Salt Lake City last week for three days of panels, workshops and networking. The Jan. 11-13 conference, "Immigration: A 50-State Issue," was sponsored by the United States Conference of Catholic Bishops and the Catholic Legal Immigration Network.

The repressive immigration law that was passed last year by the Georgia legislature, which the New York Times called "one of the nation's toughest," was what brought Frank Mulcahy, executive director of the Georgia Catholic Conference, to Utah.

"We want to see it changed," Mulcahy said. In addition to causing the loss of millions of dollars in agricultural crops that have gone unharvested for lack of workers, the law "created a climate of fear," he said. "Some parishes where we had heavy Hispanic attendance, we saw big drop-offs."

Paul Long, president and CEO of the Michigan Catholic Conference, also attended the immigration conference to learn what has been done in other states "and how best we can tackle the issue should adverse immigration legislation be proposed and pushed in the Michigan legislature," he said.

Biblical prophets who proclaimed God's word often suffered for their work, but nevertheless kept the word burning within them, said the Most Rev. Eduardo Nevares, Auxiliary Bishop of the Diocese of Phoenix, in his homily during the conference's opening Mass.

The Mass was concelebrated by the Most Rev. John C. Wester, Bishop of Salt Lake City; and the Most Rev. Arturo Cepeda, Auxiliary Bishop of the Archdiocese of Detroit.

"Today, my brothers and sisters, it is our time to listen to God's word ever anew," Bishop Nevares said. "How do we practice that prophetic office today? By defending the immigrant from discrimination. By striving to be the voice for those who have no voice. By struggling to advocate for the dignity of every human person from the first moment of conception to natural death. By calling for the integrity and unity of all human families. And last but not least, that we urge our government leaders to pass a just equitable and comprehensive reform to immigration law and system which is broken."

Bishop Wester, in his keynote address at the opening dinner, said the conference was a wonderful way to celebrate National Migration Week, and "it's my hope that you will leave Utah more prepared to speak out and to advocate on behalf of our immigrant sisters and brothers in your own states and localities." (View Bishop Wester's keynote video online at www.icatholic.org. Also see Bishop Wester's Q&A on page 3.)

While Washington legislators seem to be at an impasse regarding comprehensive immigration reform, "we must never give up hope," said Bishop Wester, who was chairman of the USCCB Committee on Migration from 2008-2010 and is now on the board of Catholic Relief Services. "I firmly believe that one day we will be successful. In the meantime we must always keep focused as we advocate for immigration reform in this complex and constantly changing landscape in our country today…. Although the matter seems dark and the prospect of comprehensive immigration reform in Congress distant, I believe that the work of our Church on immigration reform on a state level and local level both in the past and in the months ahead could make all the difference on how our nation eventually solves this problem."

One of the reasons the conference was held in Salt Lake City was because of the Utah Compact – an agreement signed by political, civic, business, religious, legal and law enforcement leaders that laid broad guidelines for how the immigration debate should be handled.

The Utah Compact's principles are that there must be a federal solution to the immigration system; that law enforcement should concentrate its efforts on felons, not immigrants whose only crime is being undocumented; that families shouldn't be separated by the immigration system; that many businesses depend on immigrants; and that the U.S. is an inclusive, welcoming society.

"Here in Utah we used the compact as a firewall against harsh immigration enforcement proposals," Bishop Wester said, adding that the state legislature passed three immigration laws, only one of which was enforcement oriented. "Similar compacts can be useful tools for advocacy but also are consistent with Catholic public policy based upon Catholic teaching," he said.

"The Utah Compact … laid the groundwork for legislation here in Utah that changed the debate not only in Utah but across the country," said Ali Noorani, executive director of the National Immigration Forum, during a panel on "Communicating the Message: How to Win the Battle in the Media."

The compact's principles are "clear, clean and simple," Noorani said. A message that touches both hearts and minds is best, he said. Advocates must tell both facts and compassionate arguments, and explain to individuals why the issue is important to them. "When we talk about immigration policy, we lose," he said.

Father Martin Diaz, pastor of Saint Therese of the Child Jesus Parish in Midvale, attended the conference as a representative of the National Organization of Continuing Education of Roman Catholic Clergy. Of all the information he gathered in the three days, he said, his report to NOCERCC would focus on the effect of the immigration on children who are U.S. citizens who are separated from their families when their parents are deported. "In order to develop the political will, we need to speak about our broken system, and our brothers and sisters, the children who are suffering because of the broken system," Fr. Diaz said. "We need to develop a political will that comes out of Catholic social teaching to see the individual who is hurting."

The conference taught him that people who oppose immigration reform ignore the statistical evidence about the negative economic impact of the system, he said. "The reasoned approach is not working. But I think that people will listen to the heart."