Irene Barbara Mountisne
Friday, Sep. 13, 2019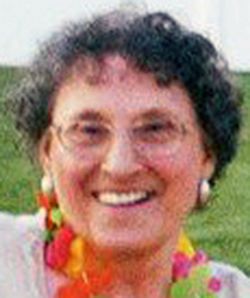 Courtesy photo
+ Enlarge
June 14, 1928 ~ June 13, 2019
Irene Barbara Mountisne passed away from this life peacefully June 13, 2019 at her home surrounded by her beautiful family. She was born June 14, 1928 in Wilkes Barre, Pennsylvania, a daughter of Frank and Albine (Bohonko) Pieczynski. Irene married her sweetheart Dominick Michael Mountisne on February 5, 1949. From their marriage came two wonderful children, Nancy and Nick.
We had to say goodbye to one of the most wonderful people we have ever known. Words cannot express how much we love her and how much she will be greatly missed. She was a kind, gentle and patient mother, always unselfish and willing to give of herself. She was an amazingly wonderful grandmother who was adored by all. She was a friend to Christ; she loved him deeply and lived her life as a quiet example of gentleness, patience, meekness, endurance and strength.
Irene had a passion for bowling and loved to be on bowling leagues where she met lifelong friends. Her family and many friends will always remember her sweet personality, kindness, laughter, and strength – even when facing difficult situations. Rene had many friends and family that she genuinely cared about, would always make them feel loved and welcomed. Above all, she lived the principle of "love one another as I have loved you" every day of her life. She treated everyone she met with love and acceptance, she absolutely loved people.
"Be good, be kind, and be honest" were her lifelong words of advice.
Irene served in her church (in St. Rose of Lima Parish) for many years. She was a longtime member of the Council of Catholic Women at St. Rose of Lima. In 1989 she was named the Saint Rose Woman of the Year. She was so devoted to her church and was such an inspiring example to all.
Irene was preceded in death by her husband, Dominick Michael Mountisne; her parents, Frank and Albine Pieczynski; sisters Frances (Michael) Andrejko, Stella (Walter) Kielert and Lillian (Charles) Czerepuski; and brother Frank (Agnes) Pieczynski, Jr.
She is survived by her children Nancy Malinoski and Nick (Michelle) Mountisne; grandchildren Paul (Rachael) Malinoski, Britney (Tayler) Wayment, Brody (Kenzie) Mountisne, Brayden (Katelyn) Mountisne and Baylee Mountisne; 10 great-grandchildren and many nieces and nephews in Pennsylvania and New Jersey.
A funeral Mass will be celebrated Monday, Sept. 16 at 10 a.m. at St. Rose of Lima Catholic Church in Layton.