J. E. Cosgriff's 2011-2012 school year highlight reel
Friday, Jun. 08, 2012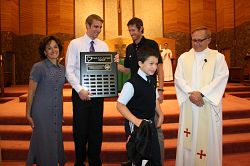 J.E. Cosgriff Memorial Catholic School
+ Enlarge
SALT LAKE CITY — Outstanding achievements and milestones at every turn marked J.E. Cosgriff Memorial Catholic School's 2011-12 school year. A few highlights:
• A new award was inaugurated – the Heart of a Champion Award, which recognizes a student who demonstrates courage and commitment to life. It exemplifies ongoing dedication to a set of attitudes and actions showing true greatness, kindness, compassion, and respect to self and others. It acknowledges perseverance through challenges and hardships. It is being resilient even when things may seem impossible. It is a heart that continues to give us a chance to believe and to have hope. Cole Hazel is the first recipient of the Heart of a Champion Award.
• Twenty-four seventh- and eighth-graders participated in the Diocesan Science Fair, with 17 of them earning awards and 15 advancing to the Salt Lake Valley Science and Engineering Fair. Nine of those students placed in the top three in their respective divisions; a total of 16 awards went home with Cosgriff students.
• Will Ryan took third place in the statewide "Why I Love My Neighborhood" essay competition sponsored by the League of Cities and Towns. He also won the prestigious Monsignor Vaughan Award and will receive a scholarship for the next academic year.
• Seventy percent of Cosgriff students achieved either National or Presidential Physical Fitness Award status. That is 20 percent above the national average and a 10 percent increase from last year. To receive these awards, students must meet qualifying standards on five fitness tests: stamina, speed, agility, core strength and flexibility.
• Jim Larson, the middle school math and science teacher, is one of three finalists in the running for the National Presidential Award for Excellence in Middle School Math & Science.