Jacqueline Cozette Briggs
Friday, Mar. 30, 2012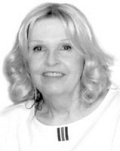 Intermountain Catholic
+ Enlarge
SALT LAKE CITY — Jacqueline Cozette Briggs, 71, passed away March 19, 2012.
Briggs was a member of Saint Francis of Assisi Parish.
She was preceded in death by her parents, Charles and Cozette Parry; daughters Debra Ann De St. Jeor and Roxanne Halladay, and son Mark C. Fullmer Jr.
A funeral Mass was celebrated at Saint Francis of Assisi Catholic Church.